Healthy Peanut Butter and Jelly Milkshake
Why eat a boring peanut butter sandwich for lunch when you can instead drink a peanut butter sandwich in cool liquid form?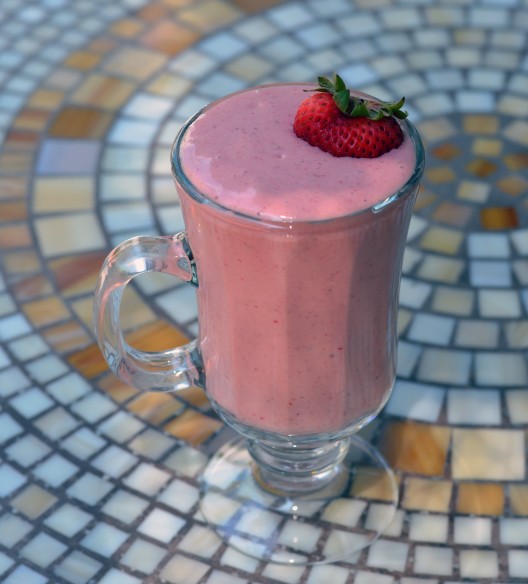 That sounds a tad gross now that I think of it. That question makes it sound like I put a sandwich in the blender with some ice cubes. Not the case. It's a riff off my healthy milkshake that uses a standard base of Greek yogurt and frozen banana to make a nutritious, protein-packed "milkshake." This version in particular is a protein powerhouse courtesy of those ingredients and the addition of a heaping spoonful of peanut butter. Never having been a fan of grape jelly, I used fresh strawberries to get the flavor of strawberry jelly into the smoothie, and it really hit the spot on that hot afternoon.
I was never a huge fan of PB&Js growing up ("hold the jelly, double the peanut butter, please" was my mantra to live by), but recently these bars and a fried peanut butter sandwich (omg ridiculous even split 3 ways) from the Bite of Seattle festival a few weeks back and my mind has been changed. You seriously have no idea how excited I was to try a fried PB&J sandwich. It was a little embarrassing. Actually a lot embarrassing now that I think about it because it was pretty much all I could talk about before we hit up the festival. I felt a little guilty after eating my part of it, and I really started craving more peanut butter and jelly afterwards; however, with this smoothie, you don't have to feel guilty at all.
Fun fact: the most popular flavor of jelly/jam is grape followed by strawberry, then raspberry. We learned this at trivia night. Our table had a big debate over raspberry or blackberry. Both Dustin and I voted for raspberry, and we were RIGHT!
Healthy Peanut Butter and Jelly Milkshake
1 banana, cut into chunks and frozen
1/3 cup non-fat vanilla Greek yogurt
8 medium strawberries + 1 for garnish
1 tablespoon peanut butter
splash of milk
Combine all of the ingredients in a blender and blend until smooth.
Garnish with fresh strawberry.