Individual Chocolate Pretzel Bread Puddings
These are easily one of the most decadent things to come out of our kitchen recently. And you know we've been making a lot of desserts...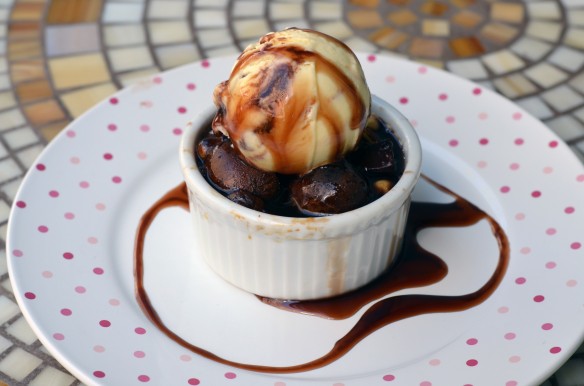 Soft pretzels serve as the base for a rich bread pudding with a combination of semi-sweet and white chocolate in every bite, plus white chocolate ice cream and fudge sauce on top. Make sure you serve these within a few minutes of removing from the oven because the combination of the hot custardy bread pudding and the cold ice cream in your mouth is amazing. This could be perfectly served at a fancy steakhouse or even at your own house after a fancy steak dinner. They can even be made in advance and baked up while you are eating your dinner.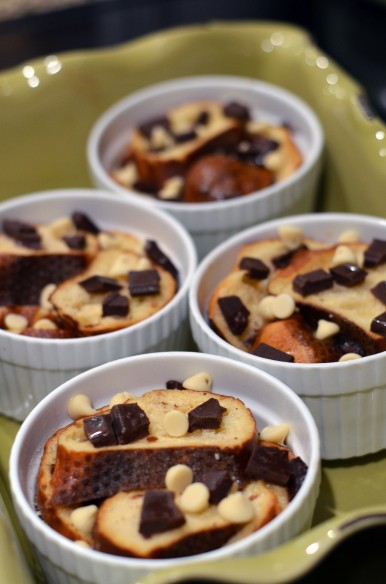 And since the bread puddings are baked in individual ramekins, you don't have to worry about portion control!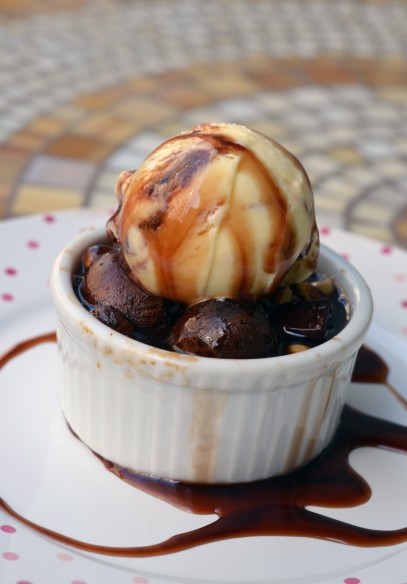 Individual Chocolate Pretzel Bread Puddings
serves 4
2-3 small loaves pretzel bread (or 4-6 large pretzel rolls), left out overnight and sliced 1/2" thick
1 cup milk (I used skim)
1 cup half and half
4 egg yolks
2/3 cup granulated sugar
3/4 teaspoon vanilla extract
1/4 cup semi sweet chocolate, chopped
1/4 cup white chocolate chips
fudge sauce
Preheat oven to 350º.
Combine the milk, half and half, egg yolks, sugar, and vanilla extract in a medium sized bowl.
Using about half of the pretzel slices, place a layer in the bottom of four ramekins sprayed with cooking spray.
Pour half of the wet mixture over the pretzel layer.
Sprinkle half of the semi-sweet and white chocolate on top.
Create another layer of pretzels, pour the rest of the wet mixture over, and sprinkle with remaining chocolate.
Press everything down to make sure all of the pretzel slices get soaked with the wet mixture.
Place ramekins in a large baking dish. Fill the baking dish with water halfway up the sides of the ramekins.
Bake for 45 minutes until the bread pudding is golden and puffy.
Carefully remove from the water bath and allow to cool for about 5 minutes before serving with a scoop of white chocolate and fudge sauce.