Limoncello Sorbet
Before we moved, we had a big fish grilling party (which we will surely share more about soon) to celebrate with our Seattle friends one last time. An ulterior motive for hosting this party was to get rid of all of our booze. This limoncello sorbet was another effort to get rid of some alcohol— the bottle of limoncello sitting in our freezer that we'd occasionally bust out as a digestif after we'd make homemade pasta. An homage to our trip to Italy.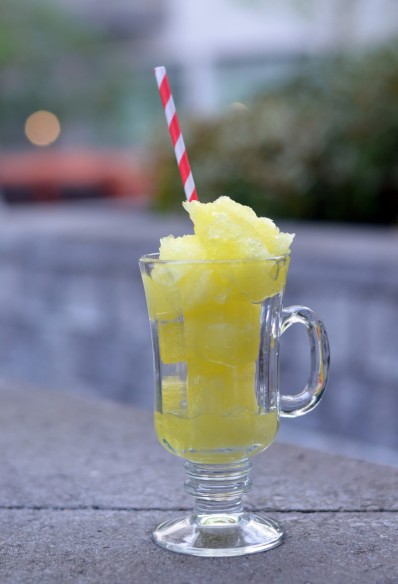 Basically this sorbet tastes like a slightly boozy version of one of those Minute Maid soft frozen lemonades that I personally used to get at Astros games as a kid. It's a great light dessert after a heavy meal and very cooling when your apartment is hot and stuffy. This frozen treat melts quickly, so get to eating!
Limoncello Sorbet
yields approximately 3 cups
2 cups water
1 1/3 cups granulated sugar
1/2 cup limoncello
3/4 cup lemon juice
Combine water, sugar, and limoncello over medium heat until sugar dissolves.
Stir in lemon juice.
Allow to cool to room temperature, cover with plastic wrap, and refrigerate for at least two hours until thoroughly chilled.
Process in ice cream maker according to maker's instructions, pour in freezer safe container, then allow to freeze for at least two hours.
adapted from Cooking Light