Preserved Lemon and Prosciutto Pizza
Dustin has declared this the best homemade pizza yet, a title previously held by this pizza. Note they both contained prosciutto. Maybe that's a key ingredient. Actually, what was so awesome about this pizza is the preserved lemons we used as a topping. Yes, lemons on a pizza is weird. But deliciously weird. There's an upscale pizza joint in Bellevue that opened not too long ago that we tried tried with some friends. The pizzas were pretty good, but we agreed for the price there is other food we'd prefer. The one thing we really liked about the place was the preserved lemon pizza. Honestly I can't remember any of the other toppings on that pizza, but was enamored with the idea of lemons on pizza, so we tried it ourselves and thoroughly enjoyed it.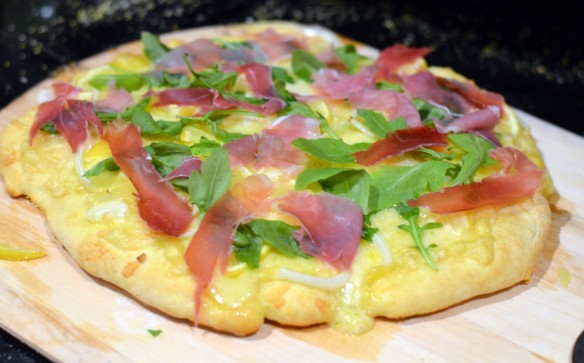 We started the process to create this pizza, over a month before when we preserved our own lemons (note: we used regular lemons, not Meyer lemons). Finally, the wait was over, and we were ready to make an epic pizza piled high with three kinds of cheeses, sweet onions, garlic, arugula, prosciutto, and the star ingredient— preserved lemon!
The flavors of this pizza are so bright and fresh, it sort of tastes like sunshine in your mouth, perfect for a delicious summer pizza! There were actually two slices of this pizza leftover that I was planning to eat for lunch the next day...until Dustin forgot and went over and took one last bite of this delicious pizza and ruined that plan. Just wanted to share my story and give him a hard time :)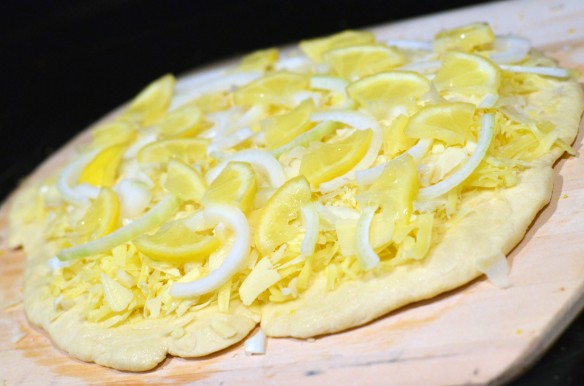 Preserved Lemon and Prosciutto Pizza
yields 14" pizza
1 recipe of your favorite pizza dough
1 tablespoon olive oil
1/2 cup emmentaler cheese, freshly grated
1/2 cup gruyere cheese, freshly grated
1/4 cup shaved parmesan
4 cloves garlic, minced
2 preserved lemons, sliced and quartered,
1 sweet onion, sliced
1 small handful arugula
2 ounces prosciutto, sliced
Sprinkle baking sheet or pizza stone with cornmeal.
Preheat oven to 525º.
Roll the dough out in a circle approximately 14" in diameter.
Brush dough with olive oil.
Sprinkle cheeses on top along with minced garlic.
Top with the preserved lemons and sliced onions.
Bake for 8 minutes until the crust is crisp and the cheese is bubbling.
Top with arugula and prosciutto.
Slice and serve!