SoCo Peach Freezer Preserves
These preserves tastes like the filling of the most delicious peach cobbler you can imagine. The flavor of Southern Comfort is subtle and not overwhelmingly boozy, but gives it a little something extra beyond basic peach preserves— a great combination of Southern flavors.
I really enjoyed the strawberry freezer jam from a few weeks back, so I wanted to make some more. This time I kept large chunks of fruit, so there were more preserves than jam. Both styles really work depending on your mood.
Seen spread here on freshly baked croissants— a perfect breakfast!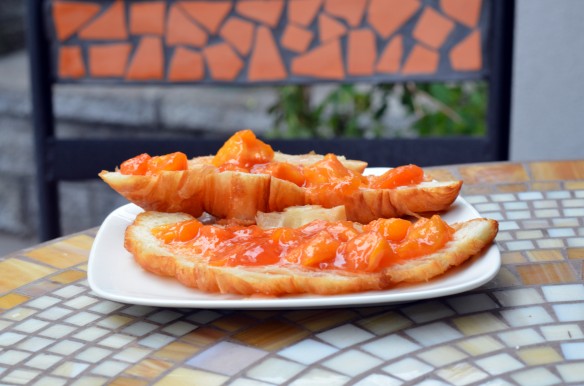 SoCo Peach Freezer Preserves
yields ~2 cups
4 peaches, peeled and diced
1/3 cup Southern Comfort
1/2 lemon, juiced and zested
1 teaspoon cinnamon
1/2 package powdered fruit pectin
2 cups sugar
1/2 teaspoon vanilla extract
Combine the peaches, Southern Comfort, lemon juice, zest, cinnamon, and pectin in a saucepan over medium heat, stirring constantly, until a rolling boil is reached.
Remove from heat and stir in the sugar and vanilla extract until sugar is fully incorporated.
Pour into mason jars and allow to set for 24 hours and then store in the freezer for up to 6 months or the refrigerator for 3 weeks.