Strawberry Cheesecake Frozen Yogurt
I'm amazed at how this frozen treat tastes like ice cream without using any heavy cream. As you've probably noticed, we've been consuming a lot of ice cream and desserts in general lately, so I skewed a little to the healthier side on this one. The realization that I have only a few more weeks until graduate school starts hit me hard, so I had to cram in a lot of dessert making before my free time is severely reduced. I figure when I'm a stressed graduate student, I'll be too busy to eat, so I'll lose all the pounds I've gained, right? Just kidding, of course, but once we get into a routine in California, my plan is to cut back on the desserts and up the vegetable quotient. I told Dustin not to complain about getting fat, but to enjoy the last weeks of me cranking out a new indulgence almost every day.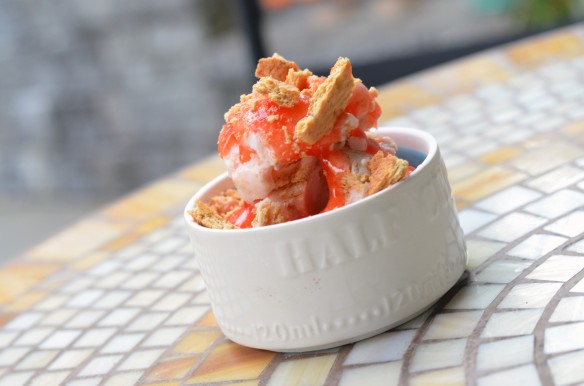 This indulgence isn't too bad for you in the scheme of things since the base is made from non-fat vanilla Greek yogurt. Basically it's almost a meal because of the protein punch it packs. At least that's what I'll keep telling myself. It's rich from the cream cheese, yet slightly tart from the yogurt, and totally fruity and sweet from the jam.
Inspired by a recipe I read in Self magazine, it really does remind me of biting into a big slice of cheesecake covered in strawberry sauce. Of course, you can use other jellies or jams to change the fruit flavor, but I chose strawberries since we had this homemade freezer jam in the fridge. The texture of the froyo is a little harder and icier than a super fatty ice cream, but really not that noticeable and totally worth the tradeoff for all the calories you save by eating low-fat froyo instead of full-fat ice cream and reduced if you let the froyo sit at room temperature for a few minutes before serving. Extra jam and graham cracker crumbled over the top is a must!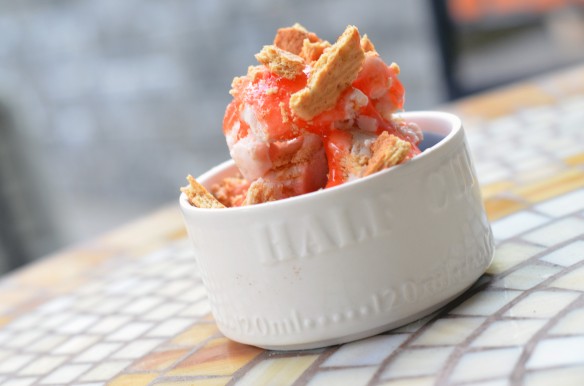 Strawberry Cheesecake Frozen Yogurt
serves 6
1 1/2 cups non-fat Greek vanilla yogurt
1/2 cup light sour cream
6 tablespoons light cream cheese, softened
2 tablespoons honey
1/2 lemon, juice and zest
1/2 cup strawberry jam + more for topping
1/4 cup cinnamon graham crackers, coarsely crumbled + more for topping
Combine the yogurt, sour cream, cream cheese, honey, lemon juice, and zest together in a blender or food processor until smooth.
Transfer to the bowl of an ice cream maker and process according to manufacturer's instructions. It will not take as long as typical ice cream to churn, so keep an eye on it. In the last minute or two of churning, add in the jam and graham cracker crumbles, so they are incorporated yet still retain some of their unique textures.
Transfer to a freezer safe container and freeze for at least two hour before serving. Serve with extra jam as your cheesecake sauce and more crumbled graham crackers as the crust.