Bacon Caramel Whiskey Bark
Dustin went back to Seattle to tie up some loose ends while I stayed in Los Angeles taking care of the pup and getting oriented for school. I really wanted to send Dustin back to Seattle with a treat for our friends, as a thank you for letting him stay with them and also because I thought they needed one last Erin dessert since I don't know the next time I'd be able to prepare one for them.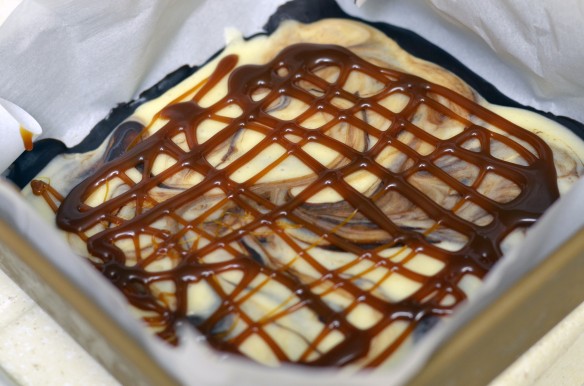 There were some issues in deciding upon a dessert. First, it had to be something easily packable on the plane. Second, it had to be something that could be made a few days (Sunday) before it would be consumed (Tuesday) and still taste fresh. You see, we drove down to San Diego to watch the Texans play the Chargers (where they barely eked out a victory) for Monday night football. Then we drove back early the next morning, so Dustin could head off to LAX almost immediately. No time to bake cookies or some other highly portable dessert because of our mini vacation.
I decided to make this whiskey, bacon, caramel bark that I had seen on foodgawker awhile back. We left Seattle with a bottle of rye whiskey caramel that had a disastrous journey and came open in our cooler, creating a huge mess. Half of the caramel in the bottle remained salvageable, but it needed to be used quickly, so I used it as a shortcut in making this bark instead of making my own caramel. I also candied the bacon for the top, similar to what Dustin did for this dish, but a little more simply to save time. The recipe takes a little while to make because you have to keep freezing the layers before adding on a new one, but each layer only requires a few minutes worth of work, so it's still really easy to make.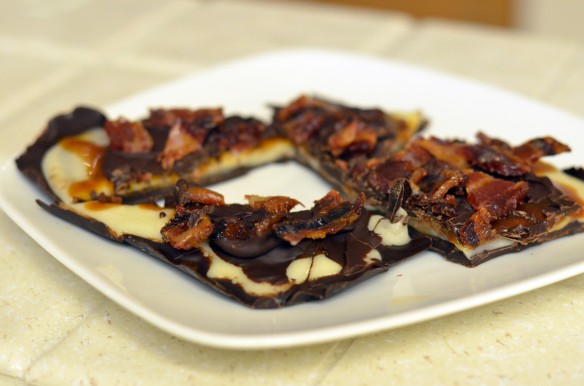 Overall it was a sweet, salty, and chocolately success. We packaged the bark in a mini cooler bag (so it too didn't turn into a big travel mess) that we acquired on our trip to Europe a few summer backs when we bought expensive chocolates in Paris and were still planning on walking around the hot city for the rest of the day. A small plastic bag with ice cubes was also put in the cooler, so Dustin could easily empty it out before airport security. He was supposed to ask for some more ice to fill the back on the other side of security, but I guess he forgot, so apparently the bark got a little melty. But it all goes to the same place and was still tasty, or so I was told.
Bacon Caramel Whiskey Bark
yields 1 8"8" pan
4 strips thick cooked bacon
2 tablespoons honey
1/4 cup brown sugar
10 ounces semi-sweet chocolate, divided
2 tablespoons unsalted butter
2 cups marshmallows
1/2 cup rye whiskey caramel
Preheat the oven to 400º. Rub the strips of bacon with honey then coat with a layer of brown sugar.
Bake in the oven for 15 minutes on an oven-safe wire rack on top of a baking sheet or jelly roll with raised sides.
While bacon is cooking, line 8"x8" pan with parchment paper, leaving some hanging over the edges for easy removal from the pan. Spray with non-stick cooking spray.
Allow bacon to cool before chopping into small pieces (can be done while waiting for bark to freeze in one of the later steps).
Melt half of the chocolate (I used the microwave and just kept constantly checking and stirring it until melted, but you can definitely use a double boiler if you so desire) and pour into the bottom of the dish.
Place in the freezer to harden for at least 10 minutes.
Melt the butter in a large saucepan over medium heat, then add in the marshmallows, stirring constantly until a creamy texture is reached. Pour and spread over the melted chocolate. Place in the freezer for another 10 minutes.
Drizzle caramel sauce over marshmallow layer. Place in the freezer for another 10 minutes.
Melt the remaining chocolate, then pour over caramel layer.
Immediately press the chunks of bacon into the chocolate layer.
Store in the refrigerator until completely set (I'd wait at least 2 hours) before breaking into pieces and keep cool until it is time to eat.
adapted from Sweet Society