Cheesy Corn & Smoked Paprika Risotto
I originally thought about making roasted corn with smoked paprika as a side dish for another meal, but decided I was so excited about the flavor combination that it should be the highlight of the meal. A cheesy risotto seemed like the perfect base to which to add the corn and paprika.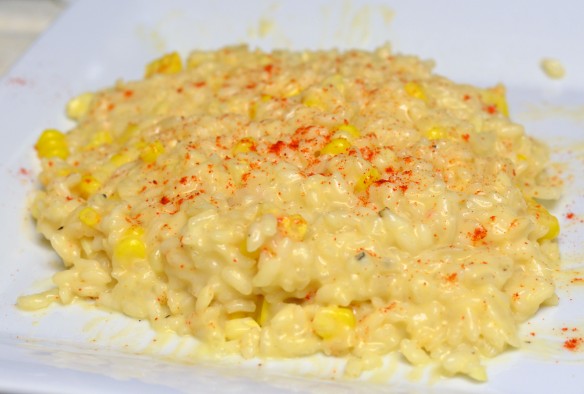 Since Dustin considers himself the risotto master of the house, I gladly let him take the lead and cook me dinner. I think the best part of being in school is that Dustin is going to be taking the lead in the kitchen more. A girl can get used to being cooked for!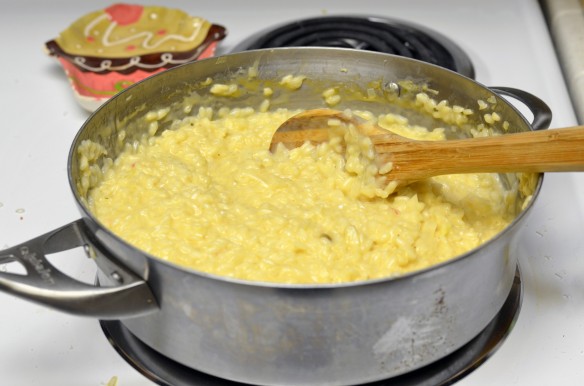 We took a very basic risotto recipe, fancied it up with multiple kinds of cheese, smoked paprika, and oven roasted corn.
Cheesy Corn & Smoked Paprika Risotto
serves 2 with plenty of leftovers
1 tablespoon olive oil
1 tablespoon + 2 tablespoons unsalted butter, divided
1/2 yellow onion, chopped
2 cloves garlic, chopped
1 1/2 cups arborio rice
1/2 cup cooking wine
1 quart vegetable stock, heated
1/4 cup parmesan cheese, shredded
1/4 cup pepper Jack cheese, shredded
3 ounces crumbled goat cheese
2 ears oven roasted corn, removed from cob
2 teaspoons smoked paprika (or more, to taste)
salt, to taste
pepper, to taste
Heat the olive oil and butter in a large pan. Once heated add the onion and garlic and cook until fragrant.
Add in the arborio rice and toast for about a minute, making sure to coat the rice with oil and butter.
Deglaze the pan with the wine.
Slowly pour the stock over the rice, about 1/2 cup at a time, stirring continuously until absorbed until all of the stock is gone and the risotto has a creamy texture.
Add in parmesan and pepper Jack cheese and stir until blended.
Plate the risotto then add crumbled goat cheese, corn, paprika, salt, and pepper to individual plates.