Funfetti Cupcakes
Funfetti cupcakes are the perfect celebratory dessert for a birthday, or a great treat to insert a little happiness and color into a plain ol' weekday. I made these cupcakes for the second reason, and am posting for the first reason because today is the blog's 2nd birthday!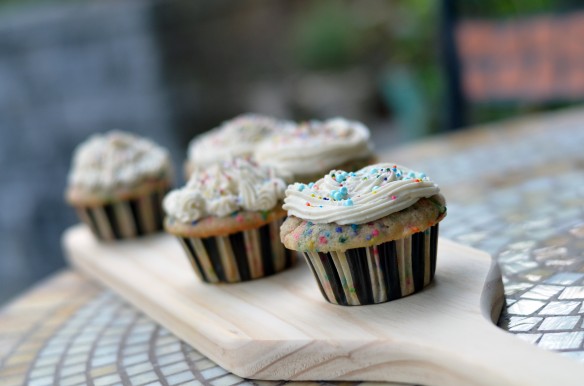 I can't believe it's been two years since that pizza night, only a few months after we moved out to Seattle and only a couple of months since sweet little Bonnie entered our life! Crazy how times have changed. Now we're living in Los Angeles, I'm soon to be in grad school, and Dustin will have a new job. We still only have one puppy, but hopefully that will be changing soon, too!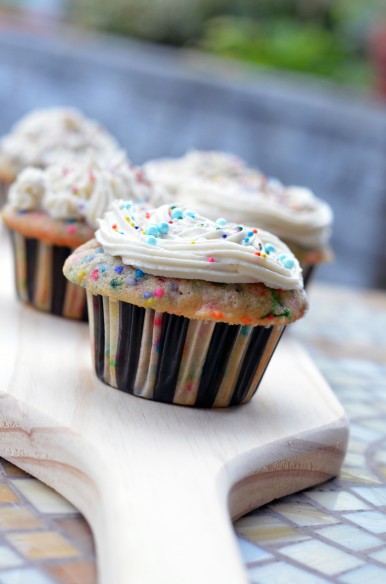 I took a most basic vanilla cupcake recipe from my Crazy About Cupcakes book (it's also pretty much the most standard vanilla cupcake recipe floating around the internet from what I can tell) and jazzed it up with lots of sprinkles. I probably added a little more than I needed to, but I really liked all of the color in them. All of that color made me happy each time I took a bite!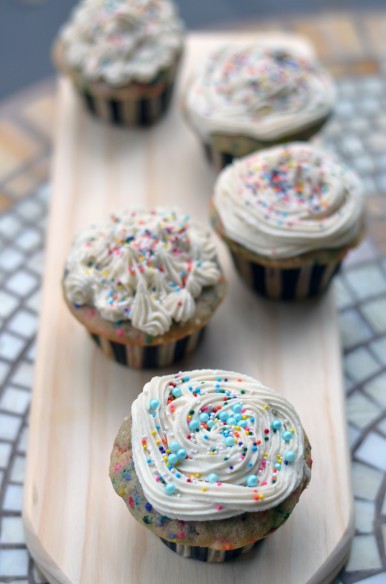 We just might have eaten these for breakfast! Happiest way ever to start a morning! :)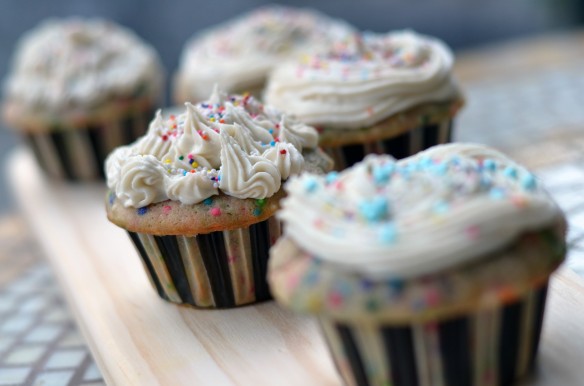 Funfetti Cupcakes
yields 1 dozen standard cupcakes
Cupcakes
1/2 cup unsalted butter, room temperature
1 cup granulated sugar
2 large eggs, separated, room temperature
2 tablespoons vanilla extract
1 cup + 2 tablespoons cake flour*
1/2 cup all-purpose flour
1 1/2 teaspoons baking powder
1/4 teaspoon salt
1/2 cup milk
1/8 teaspoon cream of tartar
3 ounce bottle rainbow nonpareil sprinkles + more for sprinkling on top
Preheat the oven to 350°. Line cupcake pan with liners.
In a large bowl, beat the butter and sugar together for several minutes light and fluffy.
Add in the egg yolks, one at a time, beating after each one. Add in the vanilla and beat until combined.
In a medium bowl, sift together the flour, baking powder, and salt.
Alternately add the flour mixture and milk to the wet mixture, beating on low, until just combined.
Fold in the nonpareils very gently, so you don't get streaks of color from the sprinkles.
In a small bowl rapidly whisk the egg whites until foamy. Add the cream of tartar and beat until stiff peaks form. Lightly fold the egg whites into the mixture to lighten it up.
Fill the cupcake liners three quarters full. Bake for about 16-18 minutes or until a toothpick inserted in the middle comes out clean. Cool the cupcakes in the pan.
Frosting
1/2 cup butter, room temperature
2 cups powdered sugar
1 teaspoon vanilla extract
1 1/2 tablespoons heavy cream
Beat the butter for several minutes until fluffy.
With the mixer on low, slowly add the powdered sugar.
Add in the vanilla extract and heavy cream, adding more powdered sugar or heavy cream until desired texture is achieved.
Pipe onto completely cooled cupcakes.
Garnish with more sprinkles.
* You can substitute the cake flour with 1 cup of all-purpose
Happy birthday, Wafoodie!