M&M White Chocolate Cookie Dough Fudge
It's been awhile since I've brought out the Cookie Dough Lover's Cookbook, so I figured it was about time to try another recipe. The easy fudge recipe seemed promising; however, I definitely wanted to spruce it up a bit— with M&Ms and white chocolate chips in addition to regular ol' chocolate chips called for in the recipe. This is an easy no-bake recipe that doesn't require a candy thermometer or any fudge making skills whatsoever.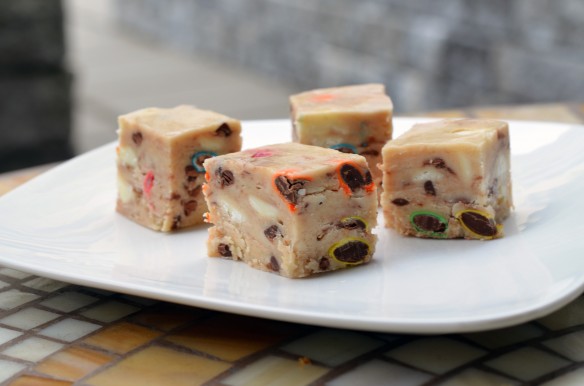 I promise you only need a small piece of this fudge because it is sweeeeeet (not surprising considering the main ingredient is powdered sugar....lots of it). According to the cookbook, the recipe make 64 pieces and it's only made in an 8"x8" pan. We cut our pieces a little bigger than that because a 1" square is barely more than a bite, and you need at least a tad more than that. I think Dustin cut ours into 42 rectangles, which seems to be a good number.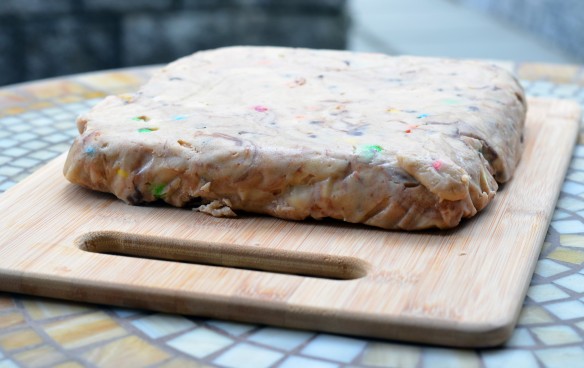 And this was the final dessert Dustin took to his coworkers in Seattle...the end of an era! And now they can no longer claim that I am making them fat!
M&M White Chocolate Cookie Dough Fudge
yields 1 8"x8" pan
Cookie Dough
1/3 cup unsalted butter, softened
1/4 cup granulated sugar
1/4 cup brown sugar, packed
1/2 teaspoon vanilla extract
pinch of salt
1 tablespoons half-and-half
1/2 cup all-purpose flour
Fudge Base
1/3 cup brown sugar, packed
1/3 cup unsalted butter
pinch of salt
1/3 cup half-and-half
4 3/4 cups powdered sugar
1 teaspoon vanilla exract
1/2 cup mini chocolate chips
1/2 cup white chocolate chips
1/2 cup M&Ms
Line an 8"x8" baking dish with aluminum foil, leaving the foil handing over the edges. Spray with cooking spray.
Begin by making the eggless cookie dough. In a large bowl, cream together the butter and sugars until light and fluffy. Add in the vanilla extract, salt, and half-and-half. Slowly mix in the flour. Set aside.
Make the fudge base by combining the brown sugar, butter, salt, and half-and-half in a medium saucepan over medium heat. Heat until butter is melted and sugar is dissolved. Remove the pan from heat and slowly stir in powdered sugar 1/2 cup at a time. Add in the vanilla extract. The mixture should have cooled significantly at this point.
Add the cookie dough to the fudge base and then fold in the mini chocolate chips, white chocolate chips, and M&Ms.
Spread into prepared dish, cover with aluminum foil and chill in the refrigerator for at least 5 hours before slicing. Store in the fridge for up to a week.