Moroccan Inspired Chicken with Preserved Lemon and Olives
When looking up how to preserve lemons for the most delicious pizza ever, I learned they are a staple in Middle Eastern and Moroccan cooking. We still had quite a few leftover after making our pizza, so I went looking for an easy and healthy dinner in which I could incorporate the preserved lemons. I found this recipe for chicken with lemons and green olives. I figured I could replace the regular lemons called for with preserved lemons and serve the chicken on a bed of quinoa.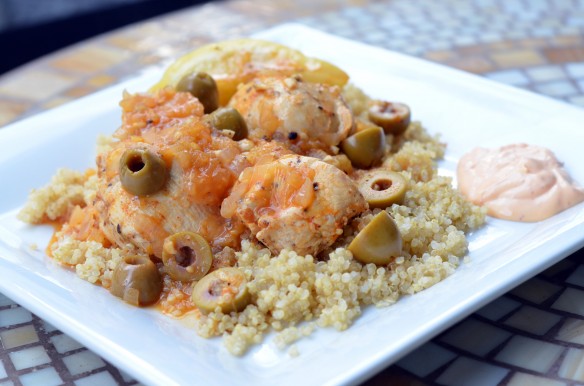 I liked this dish, and Dustin really liked this dish. It was a very different meal from anything we've ever prepared before, but we both really enjoyed it and will have to explore cuisine from this part of the world more in the future!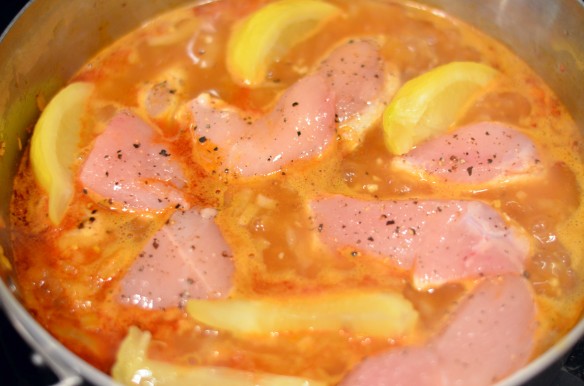 We served the chicken with a side of Harissa Cream (sour cream + harissa paste).
Moroccan Inspired Chicken with Preserved Lemons and Olives
serves 2-3
1 tablespoon olive oil
1/2 onion, sliced
2 garlic cloves, pressed
1 tablespoon paprika
2 teaspoons ground cumin
1 teaspoon ground cinnamon
1 teaspoon ground ginger
1 14-ounce can chicken broth
1 1/2 pounds boneless, skinless chicken breast, cut into large pieces
2 preserved lemons (8 slices) + 2-3 more slices for garnish
1 tablespoon lemon juice
1/2 cup green olives
salt, to taste
pepper, to taste
Heat olive oil in large pan over medium-high. Cook onions until golden and then add in pressed garlic and cook until fragrant.
Add in paprika, cumin, cinnamon, and ginger, toasting the spices for about 30 seconds.
Add in chicken broth and bring to a boil.
Add in the chicken and the two preserved lemons. Cover pan and reduce heat to a simmer until chicken is cooked thoroughly (approximately 20 minutes depending on the size of the pieces), turning occasionally in the process.
Using a slotted spoon, remove the chicken from the pan. Add in the lemon juice and the green olives, then raise the heat and bring to boil, uncovered, to thicken the sauce.
Pour sauce over chicken and a bed of quinoa. Garnish with additional preserved lemon. Season with salt and pepper.
adapted slightly from Epicurious