Peanut Butter Cookie Dough Truffles
After all of the cookie madness of the past few days here is some cookie dough love. The only thing possibly better than a cookie is cookie dough. Peanut butter cookies aren't my favorite, but I've already made regular chocolate chip cookie dough truffles, so I thought these would be a fun change, especially with a little white chocolate and chunks of honey roasted peanuts.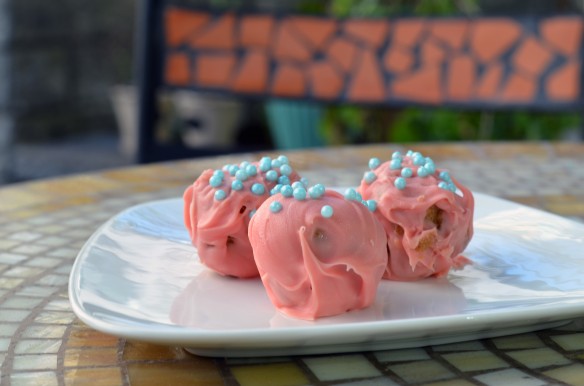 When Dustin took these into work, his co-workers commented they would like a lower peanut butter filling to coating ratio. I'm always open to constructive criticism. Dustin joked he'd pass on the comments and make sure the makers of said comments didn't get the next dessert. I could totally see what they're saying, but since I was just using up my leftover candy melts from my animal cookies I wouldn't have had enough to cover a greater surface area— I was already stretching what I had to make them the way I did.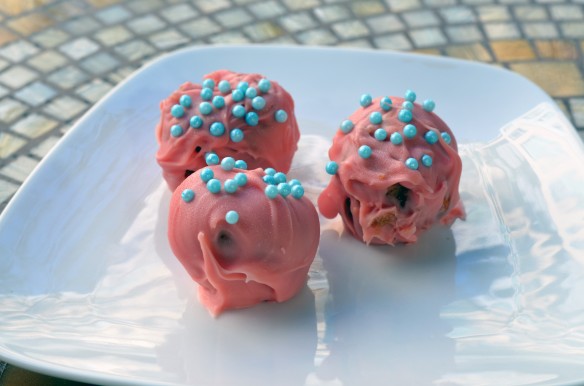 I'd definitely have to chop the peanuts and white chocolate chips more finely if I made the truffles smaller, so if you'd like to add an extra step to the process, you can. But either size you go with, these are a rich and decadent candy.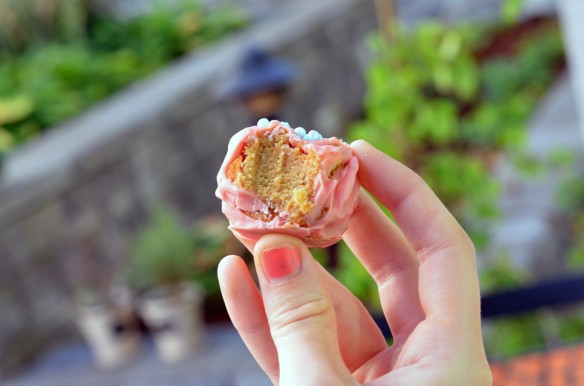 Peanut Butter Cookie Truffles
yields 12 truffles
1/4 cup butter, softened
1/4 cup creamy peanut butter
1/3 cup brown sugar, packed
2/3 cup flour
1/4 teaspoon salt
1/4 cup honey roasted peanuts, chopped
1/4 cup white chocolate chips
1 bag Wilton candy melts
Combine the butter, peanut butter, and sugar with a hand mixer on medium speed until smooth.
Turn the mixer down to low, then slowly add the flour and salt until incorporated.
Fold in the peanuts and white chocolate chips.
Roll the dough into 12 balls and place each on a parchment paper lined baking sheet. Store in freezer for an hour.