Raspberry & Blackberry Zucchini Muffins
Zucchini and berry season may be over for much of the country, but in Southern California the seasons aren't quite the same, so there are still some lingering around the farmer's markets. If you still have zucchini lying around or have some frozen, here is the time to bust them out. These muffins are a relatively healthy breakfast, and you can't taste the zucchini at all. I definitely prefer these muffins over the chocolate zucchini bread I made last year.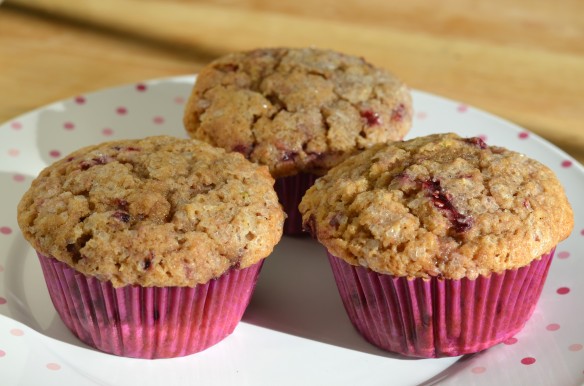 After our first visit to the farmer's market in Santa Monica, I was feeling inspired and had the itch to bake after taking a couple of weeks off for the move, so my sous baker and I baked these late one night to have muffins one morning. The sous baker wasn't super excited about my christening of our oven being zucchini muffins, but I think he enjoyed them well enough, especially since we are trying to eat healthier at home after my baking binge in Washington and trying out all of the restaurants around LA (more on those soon) before the rush of school and work hit full force.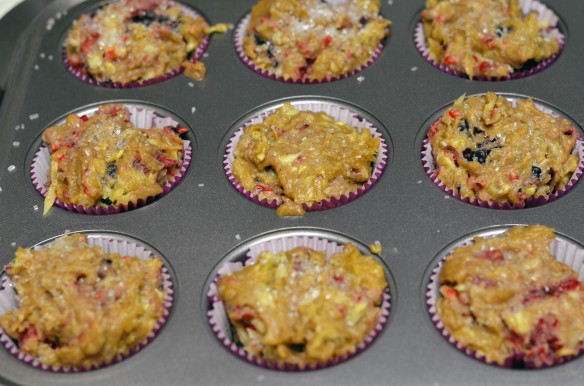 These muffins didn't rise quite as high as the best bakery-style muffins did, and I'm not exactly sure why. I guess I'll have to experiment with my new oven some more, as each is a little different.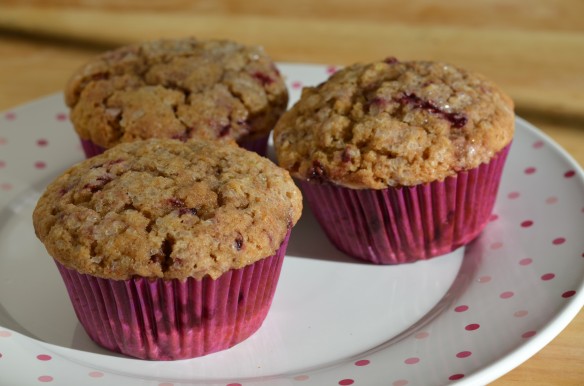 Raspberry & Blackberry Zucchini Muffins
yields ~9 muffins
2/3 cup brown sugar
1/2 cup coconut oil
1 teaspoon vanilla extract*
3/4 cup + 2 tablespoons all-purpose flour
3/4 cup whole wheat flour
2 teaspoons cinnamon
1 teaspoon baking powder
1 teaspoon baking soda
1/2 teaspoon salt
1 cup shredded zucchini, as much moisture as possible wrung out
3/4 cup blackberries,
3/4 cup raspberries
coarse sugar, for sprinkling
Preheat the oven to 425º. Line 9 cavities of a muffin tin with paper liners.
Cream together the brown sugar and coconut oil in a large bowl until light and fluffy.
In a medium bowl, whisk together the flours, cinnamon, baking powder, and salt.
Fold in the zucchini.
In a small bowl, toss the berries in the flour to prevent them from streaking the batter. Fold the floured berries into the batter.
Divide the batter evenly among the muffin liners.
Sprinkle tops with coarse sugar.
Bake for 5 minutes and then reduce the temperature to 350º. Continue baking for 18-20 minutes until the tops are golden brown or a toothpick inserted in the middle comes out cleanly.
* I fully intended to include vanilla extract, but I guess a couple of weeks away from the oven made me a little ditzy, as I forgot to actually include it. I actually had already eaten one of the muffins and declared them delicious when I realized there couldn't be any vanilla extract in them because I never opened the new vanilla I bought at the grocery store. However, I believe that all baked goods are tastier with vanilla in them, so I'd definitely go ahead and add it the next go around.