Roasted Vegetable Lasagna Roll Ups
I had a picture in my head of what this dinner would look like— cute little lasagna pinwheels covered in marinara and cheese. Well the strips of lasagna were not large enough that I could stack them like I wanted without them falling apart. My cute roll ups ended up more like enchiladas, but whatever. They were tasty, and I've learned some lessons on how I might be able to improve upon them in the future.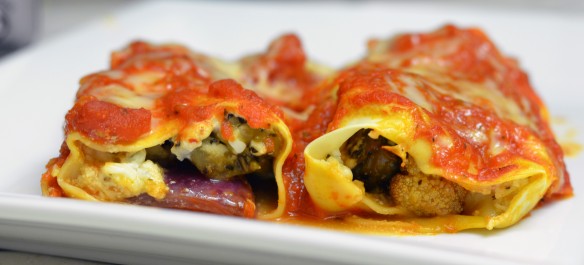 As part of our promise to eat more veggies in our diet, we loaded this lasagna with roasted veggies. I told you I was sort of obsessed with roasting. We roasted a large pan of veggies— onion, cauliflower, squash, and eggplant, and stuffed them inside lasagna noodles along with a ricotta and mozzarella mix before topping them all with marinara and parmesan.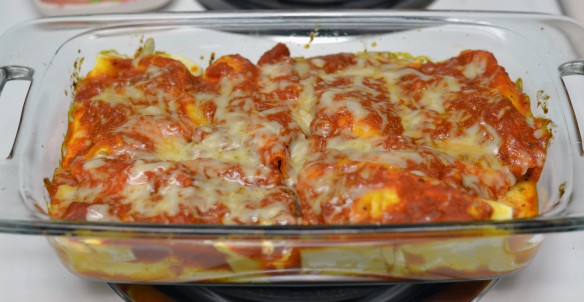 Not the best looking meal, by far, we've ever made, but I'm proud of us for incorporating vegetables. And I vow to do some sort of spin on these and learn from my mistakes this round.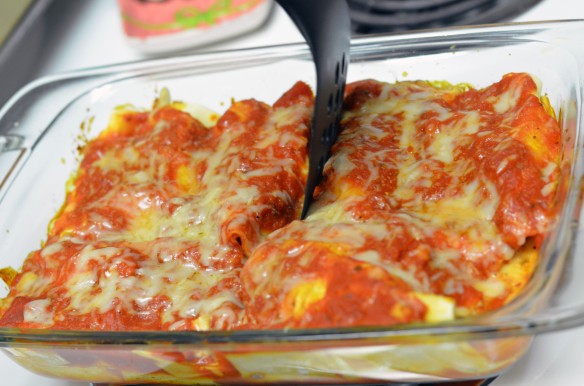 Roasted Vegetable Lasagna Roll Ups
serves 8
1 yellow onion, sliced
1 small eggplant, cubed
1 squash, cubed
1 small head cauliflower, florets only
olive oil, for brushing
1 9-ounce package no-boil lasagna noodles
1 1/2 cups ricotta (part-skim is fine)
1 cup mozzarella, shredded
2 eggs, lightly beaten
2 cups marinara sauce
1 cup parmesan, shredded
Preheat to 425º. Make sure all of the vegetables are chopped to about the same size, brush with olive oil, and place in a large baking dish.
Bake vegetables for 15-20 minutes depending on how big your vegetables are. Check frequently to make sure not to burn any of the vegetables and remove them from the pan early if needed.
Allow veggies to cool before using and lower the oven temperature to 350º.
Soak the noodles in hot water for 5 minutes until softened.
While noodles are softening, mix the ricotta, mozzarella, and eggs.
Dry noodles and then spread ricotta mixture on each, leaving at least an inch of space of noodle at the top clean.
Place a few of each type of roasted vegetable on top of the ricotta mixture (how many depends on how large you sliced your veggies), then roll up.
Place lasagna rolls seam side down in two different baking pans.
Cover with marinara sauce then sprinkle generously with parmesan.
Bake covered in aluminum foil for 20 minutes then remove foil and bake for another 5 minutes or until cheese on top has browned.
This lasagna can also be frozen. After I covered the pans with aluminum foil, I threw one into the freezer unbaked for one of those busy grad school nights.