Spicy Ranch Cauliflower Crust Pizza with Oven Roasted Corn + Goat Cheese
Apparently more than half of the produce consumed in the United States is grown right here in California. As a result farmer's markets here are a way of life. Farmer's markets were popular in Washington, but don't compare to the ones here. As previously mentioned there are multiple farmer's market here, and they are a food lover's dream. Since we have so much fresh produce out here, we have vowed to eat more vegetables. No excuses. I think this pizza is proof that we can and will.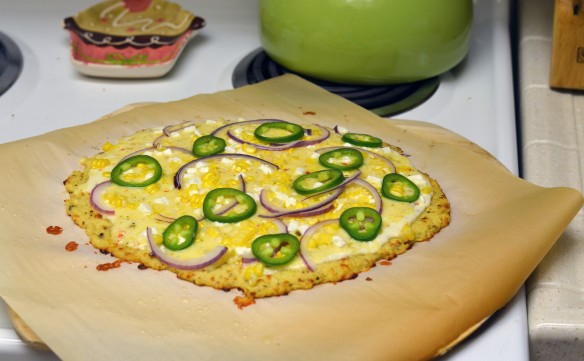 I convinced Dustin to eat a cauliflower crust pizza. Impressive, right? It really isn't the exact same as regular pizza crust, and you can sort of taste the cauliflower on the portions not doused in cheese, but we enjoyed this pizza a lot and would could substitute it into our traditional pizza nights. While we were able to incorporate healthy ingredients like cauliflower and corn into this pizza, we also used a lot of cheese and used ranch dressing instead of tomato sauce. The Jack cheese we used was quite spicy and we added sliced jalapenos to the top, so the ranch had a nice cooling effect on your mouth.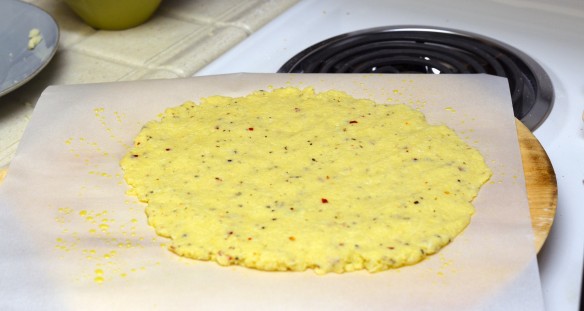 I'm trying to think of other clever ways to incorporate vegetables into meals. I know part of eating vegetables is to appreciate them as they are, but there's something about being able to hide them that makes them easier to eat in the quantities we should be eating them! We even ate this on the day we had zucchini muffins for breakfast, so you can bet we were at least somewhat closer than usual to meeting our veggie quota for the day.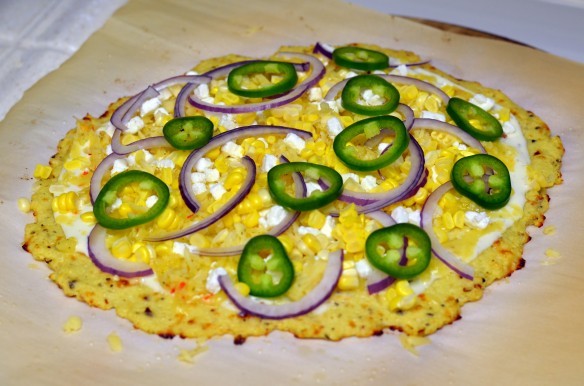 Spicy Ranch Cauliflower Crust Pizza with Oven Roasted Corn and Goat Cheese
Cauliflower Crust
1 small head cauliflower, florets only
2/3 cup mozzarella, shredded
1 egg, lightly beaten
1/4 cup flour
spices to taste (basil, oregano, garlic powder, onion powder, red pepper flakes, etc.)
olive oil
Preheat oven to 450º.
Place the cauliflower florets in the bowl of a food processor and process until fine.
Transfer the cauliflower dust to a microwave safe bowl and cook for 6-7 minutes.
Allow to cool thoroughly before handling.
Wring as much moisture from the cooked cauliflower as you can.
Mix the cauliflower with the mozzarella, egg, flour, and spices until a dough forms.
Flatten the dough out into a circle on a baking sheet or pizza peel lined with parchment paper.
Brush with olive oil.
Transfer the parchment paper into the preheated oven and bake for 8-10 minutes.
Toppings
1/2 cup light ranch dressing
1/2 cup pepper Jack cheese, shredded
2 ounces goat cheese, crumbled
1/2 jalapeño, sliced and seeded
1/2 medium red onion, sliced
1 ear oven-roasted corn, removed from cob
After removing crust from oven, spread ranch dressing on top.
Sprinkle with Jack and goat cheeses.
Add sliced jalapeño, red onion, and corn to top.
Bake for another 5 minutes until the cheese is melted.
Allow to cool for 2-3 minutes before slicing.