Smoked Cheddar Arancini
I've been wanting to make arancini (fried risotto balls) pretty much since the first time we've made risotto. But it always seems likes there is never quite enough to make it worth it, or else we have some really weird risotto mix-ins that wouldn't translate into the best arancini. Plus it wasn't until relatively recently that we felt comfortable frying things up.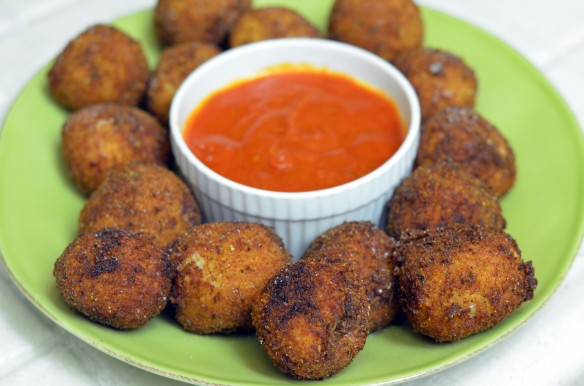 But now we've got the frying down, and for this time around, we made a BIG batch of a very basic risotto and only added the extras at the very end to individual plates, keeping the leftovers as a basic cheesy risotto.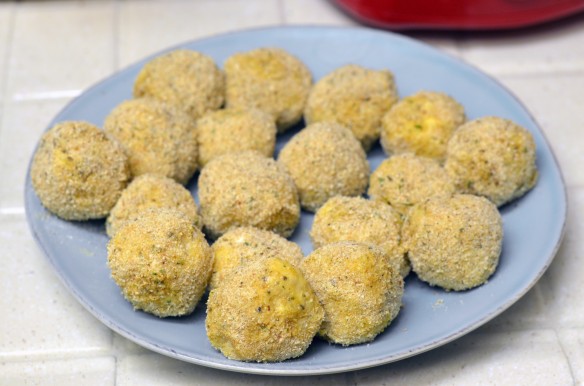 These little fried nuggets were so ridiculously good. Typically, arancini balls are stuffed with mozzarella, but we used fresh smoked cheddar in the middle. When that cheddar melts in the center and you bite in to the warm, gooey cheese, you will think you have died and gone to heaven. No joke.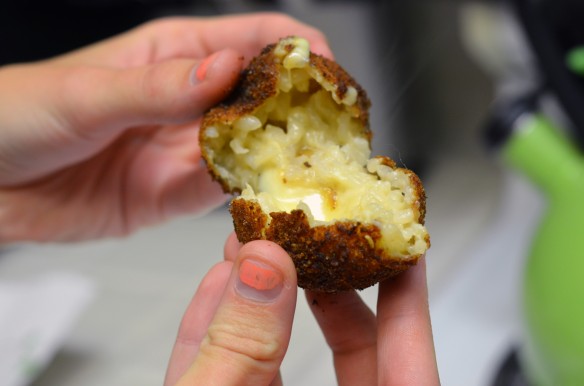 Dip in marinara sauce, and enjoy with football! Go Texans, beat the Ravens!
Smoked Cheddar Arancini
1/2 batch leftover basic cheesy risotto (leave out goat cheese, corn, and paprika)
1 egg
3 ounces smoked cheddar cheese, cut into 1/2" cubes
1 cup Italian breadcrumbs
canola oil, for frying
salt, for sprinkling
marinara sauce for dipping
Mix the egg with leftover risotto.
Portion the rice and egg mixture in tablespoon size balls.
Take a cube of cheese and press into the center of the ball, making sure cheese is completely covered.
Place balls on parchment paper lined baking sheet and refrigerate for at least 15 minutes.
Roll the rice balls in breadcrumbs and place back in the fridge for another 15 minutes.
Heat the oil (should be about 3" high) in a large, heavy bottomed pot.
When the oil reaches 375º, gently add the rice balls to the oil and cook for about 3 minutes or until the outsides are golden brown.
Sprinkle with salt and serve immediately with warm marinara sauce.