Bacon Stuffed Waffles
A few weeks ago, I told you Dustin was mad that I chose to order my waffles at The Tasting Kitchen sans bacon in the middle. So for football brunch, I remedied the lack of bacon stuffed waffles in our lives. Rich buttermilk waffles taste absolutely delicious with chunks of crispy, smoky bacon in the middle covered in maple syrup. These waffles are the perfect combination of sweet and savory.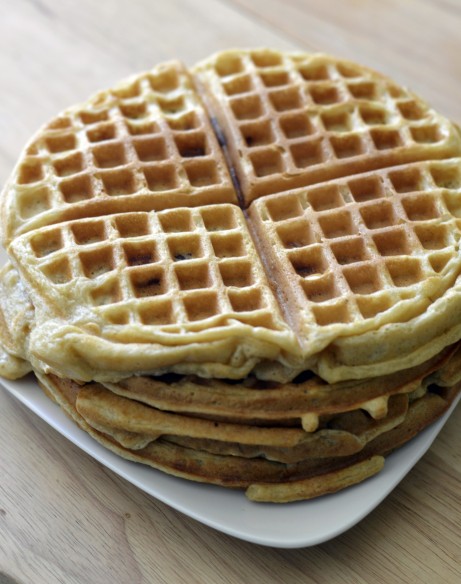 We went a slightly different route than the restaurant. I crumbled chunks of bacon in the batter, while they apparently put whole slices in the middle of two layers of batter. Since we have a traditional waffle maker that makes thinner waffles rather than a Belgian one, there wouldn't be enough room to do the Tasting Kitchen's technique. I was also slightly worried about a high concentration of bacon grease in any one area could possibly lead to a fire.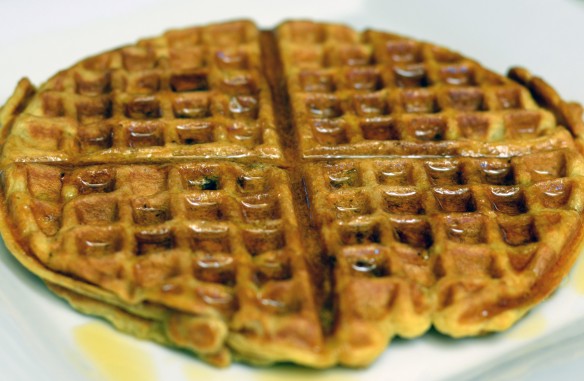 For soft in the middle, crisp on the outside waffles, make sure to separate the whites from the yolks and then fold in the egg whites at the end. That definitely seems to make the difference.
Maybe The Tasting Kitchen's way is superior if you have the right tools, but we were incredibly pleased with the little salty morsels of bacon in every bite, and I'm sure you will be too!
Bacon Stuffed Waffles
yields 6 waffles
8 slices bacon
2 cups all-purpose flour
1/2 teaspoon salt
2 tablespoons brown sugar, packed
1 1/2 teaspoons baking soda
1 3/4 cups buttermilk
2 eggs, separated
4 tablespoons unsalted butter, melted
1/2 teaspoon vanilla extract
maple syrup, for serving
Cook strips of bacon until crispy using your favorite method. We always cook ours in the cast iron skillet. Set aside to cool before crumbling into pieces.
In a large bowl, combine the flour, salt, brown sugar, and baking soda.
In a small bowl, combine the buttermilk, egg yolks, butter, and vanilla.
Slowly add the wet mixture to the dry, mixing until just combined.
Stir in crumbled bacon.
In a separate small, bowl whip the egg whites until thick and foamy.
Gently fold egg whites into batter.
Spray waffle maker with non-stick spray and cook waffles on medium heat for about 3 minutes a piece.
Keep cooked waffles in toaster oven to keep warm before serving. Serve with maple syrup.
adapted  from Smitten Kitchen
The waffles were so tasty it had Bobo screaming: