Pumpkin Chocolate Chip Cookies
I hadn't been planning on making chocolate chip pumpkin cookies, seeing as I had just made pumpkin chocolate chip muffins. But I couldn't resist when I saw a recipe for chewy pumpkin chocolate chip cookies from Sally's Baking Addiction. I've made pumpkin cookies before when I was a less experienced baker, and they were cake-y along with pretty much every other pumpkin cookie I've ever consumed. I was intrigued by chewy pumpkin cookies and had leftover pumpkin from my muffins, so I went ahead and continued my cookie binge.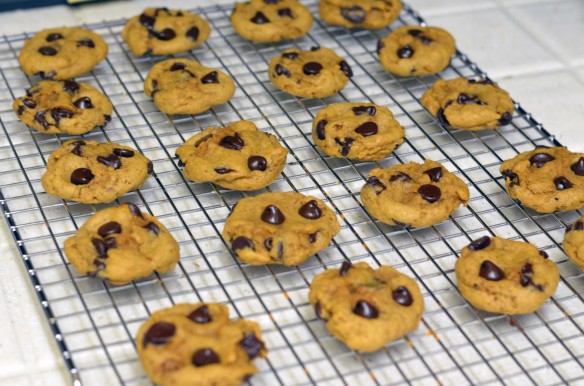 These cookies definitely delivered as promised. They had the perfect chewy chocolate chip cookie texture (made with no eggs) and all of the flavors of fall combined into one delicious nibble. Hands down, better than any cake-y pumpkin cookie. And of course, chocolate chips make everything better! The cookies stay soft and taste great for days, so these are a real winner!
Pumpkin Chocolate Chip Cookies
yields approximately 2 dozen small cookies
1/2 cup unsalted butter, melted
1/4 cup light brown sugar
1 teaspoon vanilla extract
1/3 cup + 1 tablespoon pumpkin puree
1 1/2 cups all-purpose flour
1/4 teaspoon salt
1/4 teaspoon baking powder
1/4 teaspoon baking soda
2 teaspoons cinnamon
1/2 teaspoon nutmeg
1/4 teaspoon cloves
1 teaspoon pumpkin pie spice
1/2 cup semi-sweet chocolate chips
Mix together the butter and sugars in a medium sized bowl until smooth. Add in the pumpkin puree and vanilla.
Mix the flour, salt, baking powder, soda, and spices together.
Slowly add the wet ingredients to the dry ingredients, and stir until just combined.
Fold in the chocolate chips.
Refrigerate the dough for at least 2 hours or preferably overnight.
Preheat the oven to 350º and line baking sheets with silicone baking mats.
Divide the dough into 24 small balls using a medium cookie scoop. Press each ball down lightly then place on baking sheet.
Bake for approximately 8 minutes (cookies will look underbaked, but that's how they are supposed to look). Press several additional chocolate chips on the tops while they are cooling on pan. After about 15 minutes transfer to a wire cooling rack.
slightly adapted from Sally's Baking Addiction