Pumpkin Chocolate Chip Muffins
I'll post a pumpkin recipe since it is now October, and pumpkin season is in full swing. These were actually made in the middle of September, which Dustin claimed was too early. Whatever... he doesn't have to eat anything he doesn't want to (he did eat these, by the way).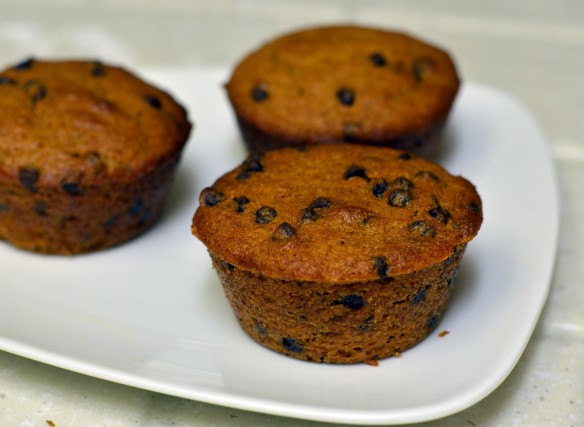 Usually when I make muffins I make them the night before, but I wanted to eat one fresh out of the oven, so I got up early one morning while Dustin was out of town and made these for myself. I realized I hadn't been to the grocery store in awhile living the bachelorette life, so I used up all my eggs (to make ice cream) and butter. But no worries, since I had seen a tasty looking pumpkin chocolate chip muffin that was vegan and used coconut oil. Eggs can be omitted from pumpkin muffins because the pumpkin can act as a binder. I made a few changes and adjusted my spice ratios to my preferences. The best part about not using eggs in a recipe is that you can taste the batter (without feeling bad about yourself) to create the perfect balance of spices.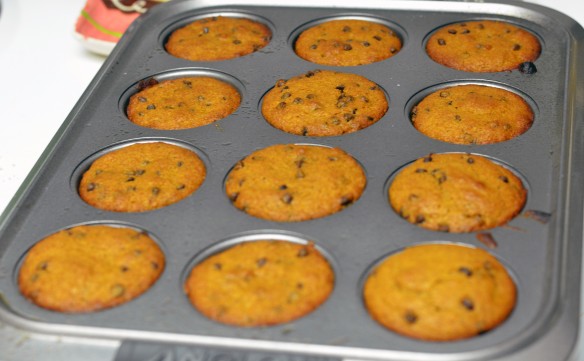 You would never even know that these muffins are completely vegan by the way they taste. They are moist, delicious, and full of pumpkin spice flavor (no trace of coconut). I let them cool in the pan, then I dug straight into one before they were completely cool. Even though the muffin almost fell apart, it was worth it to taste the melty chocolate chips among warm pumpkin.
Pumpkin Chocolate Chip Muffins
yields 1 dozen standard sized muffins
1/2 cup + 1 tablespoon all-purpose flour
1/2 cup + 1 tablespoon whole wheat pastry flour
1 1/2 teaspoon cinnamon
2 teaspoons pumpkin pie spice
1/2 teaspoon nutmeg
1/2 teaspoon cloves
1/4 teaspoon salt
3/4 cup granulated sugar
1/4 cup brown sugar, packed
3/4 cup pumpkin puree
1/3 cup coconut oil, melted
1/4 cup vanilla almond milk
2 tablespoons honey
1 tablespoon vanilla extract
1 cup mini chocolate chips
Preheat oven to 400º. Spray muffin pan with non-stick spray.
In a large bowl, combine the flours and spices.
In a medium bowl, mix together sugars, pumpkin puree, coconut oil, almond milk, honey, and vanilla until smooth.
Pour the pumpkin into the flour mixture, mixing until barely combined.
Fold in chocolate chips.
Divide batter evenly between muffin tin cavities.
Bake 18-2o minutes, or until toothpick inserted into the center comes out clean.
Allow to cool in pan for 20 minutes before transferring to a wire cooling rack. Once completely cooled, muffins can be stored in air-tight container at room temperature for 3 days without loss of quality or frozen.
slightly adapted from Averie Cooks