Pumpkin Pie Bagels with Maple Cinnamon Cream Cheese
I can't believe there was a time I was scared to make bagels. Now they are a semi-regular occurrence around here, and I figured it was about time to make one of my favorite flavors...pumpkin pie bagels! Full on pumpkin obsession has commenced!
I still haven't quite mastered making bagels look as pretty as the cafe-bought one, but they definitely have that chewy bagel texture. A favorite way to start an early fall morning!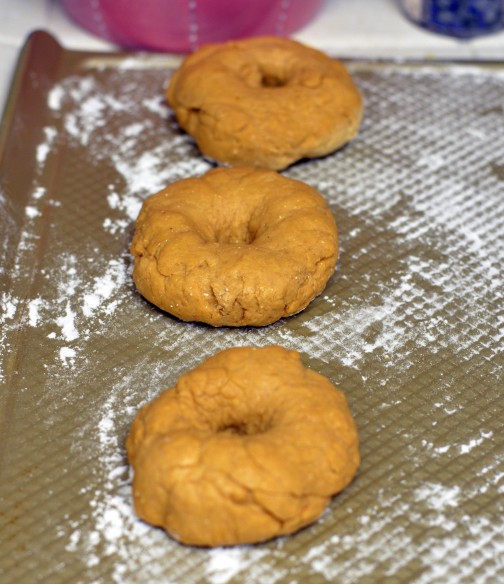 Pumpkin Pie Bagels
yields 8 bagels
Bagels
4 cups bread flour
2 teaspoons salt
1 tablespoon pumpkin pie spice
2 teaspoons instant yeast
1/3 cup brown sugar
1/2 cup pumpkin puree
3/4 cup warm water
Combine the flour, salt, pumpkin pie spice, and yeast in the bowl of a stand mixer.
Add in the brown sugar, pumpkin puree, and water and mix on low until a dough forms.
Increase the speed of the mixer to medium-low and mix for 10 minutes until dough is smooth and elastic.
Divide the dough into 8 equally sized pieces and roll into balls.
Cover with a cloth and let proof for an hour.
Shape the dough balls into bagel form (I flatten into a disc then use my thumb to create a hold in the middle).
Cover with towel again and let rise for at least another hour (I let them proof overnight and let them rest in the fridge, letting them come to room temperature before proceeding).
Preheat the oven to 450º and line a baking sheet with parchment paper or a silicone baking mat. Bring a large pot of water to a boil.
Boil bagels, 2-3 at a time for about a minute before removing and placing on baking sheet.
Bake for 14-16 minutes until tops are just golden.
Allow to cool for at least half an hour before slicing and serving with cream cheese.
Cream Cheese
6 ounces whipped cream cheese, softened
2 tablespoons maple syrup
1 teaspoon cinnamon
Vigorously combine the cream cheese, maple syrup, and cinnamon in a small bowl until smooth.
Serve on pumpkin pie bagels!
loosely adapted from Taste of Home