Pumpkin Spice Coffee Creamer
With the leftover pumpkin puree from the pumpkin pie bagels, I made pumpkin spice creamer to accompany our morning cup of joe. I told you yesterday, I was in full pumpkin obsession mode.
Homemade coffee creamer is easy to make with half-and-half and sweetened condensed milk. For everyone's favorite fall flavor, all you have to do is add pumpkin puree and pumpkin pie spice. I don't necessarily think it is cheaper to make your own coffee creamer, but it is fun to be able to say you made your own coffee creamer.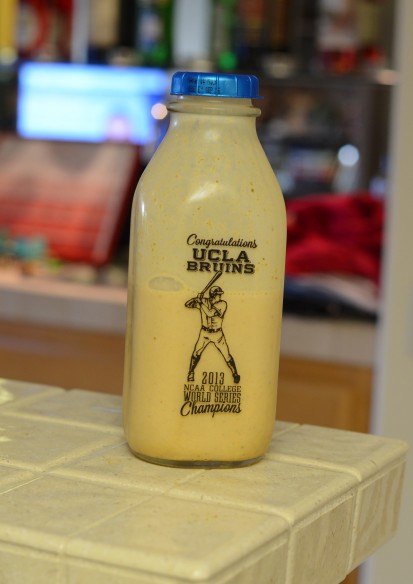 Yesterday I was wrong— pumpkin spice creamer in your coffee + pumpkin pie bagels— is the best way to start a fall morning!
*Note— homemade creamer needs a lot of shaking before you pour it into you coffee. Much more than store-bought!
Pumpkin Spice Coffee Creamer
1 1/2 cup half-and-half, divided
1/2 cup pumpkin puree
2 teaspoons pumpkin pie spices
1 14-ounce can sweetened condensed milk
In a small saucepan, combine 3/4 cup half-and-half with pumpkin puree and spice.
Bring to simmer over medium heat and cook approximately 15 minutes until significantly thickened.
Remove from heat and allow to cool in the saucepan for 15 minutes.
Stir in remaining half-and-half and condensed milk.
Store in glass jar for as long as you would keep the half-and-half around (I used this awesome milk jar celebrating UCLA's national baseball championship).