Soft Sprinkle Sugar Cookies
Cookie batch number 2 for the new student BBQ were simple, soft baked sugar cookies studded with lots of sprinkles. I wanted a fairly simple cookie that pretty much everyone likes and would provide a nice contrast to the salted caramel chocolate chip cookies of yesterday. I also thought sprinkles would be a fun and festive way to celebrate the school year.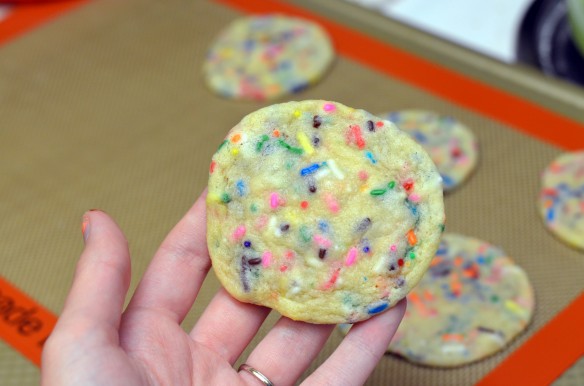 Of course, I used my preference to make soft cookies by using cornstarch which keeps them doughy in the middle, common for chocolate chip cookies and the like, but unusual for sugar cookies. These cookies come out of the oven soft, thin, and super buttery. Almond extract gives them a little something extra beyond you standard sugar cookies. Plus they are very colorful!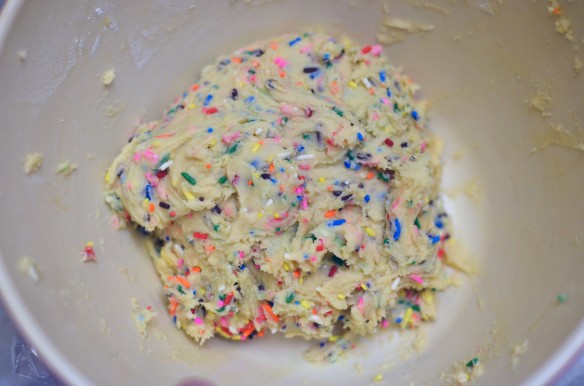 Soft Sprinkle Sugar Cookies
1 2/3 cup all-purpose flour
1 1/2 teaspoons cornstarch
1/4 teaspoon salt
1/2 cup unsalted butter, room temperature
3/4 cup granulated sugar
1 egg
1 teaspoon vanilla extract
1 teaspoon almond extract
1/2 cup rainbow sprinkles
In a medium bowl, combine the flour, cornstarch, and salt. Set aside.
Cream together the butter and sugar in a large bowl.
Add in the egg and mix followed by the vanilla and almond extracts.
Gently fold in the sprinkles until distributed throughout.
Chill the dough in the fridge for at least two hours, or preferably overnight.
Preheat the oven to 350º. Line two baking sheets with silicone baking mats or parchment paper.
Use a medium sized cookie scoop to portion the dough into two dozen equally sized balls. Place balls on baking sheet and press down very slightly.
Bake for 8-9 minutes or until cookies look slightly underbaked. Allow them to cool on baking sheet for about 10 minutes before transferring