Steak & Cambozola Grilled Cheese with Raspberry Balsamic Drizzle
At a food truck back in Seattle, we ordered the most amazing grilled cheese sandwich called the Purple Haze. It is this amazing combination of blackened hangar steak with triple cream borgonzola (it has the veins of blue cheese like gorgonzola, but is soft and spreadable like a brie) on parmesan crusted sourdough bread with potato chips on the sandwich and a blueberry balsamic drizzle. Just saying that all is a mouthful— a tasty delicious mouthful!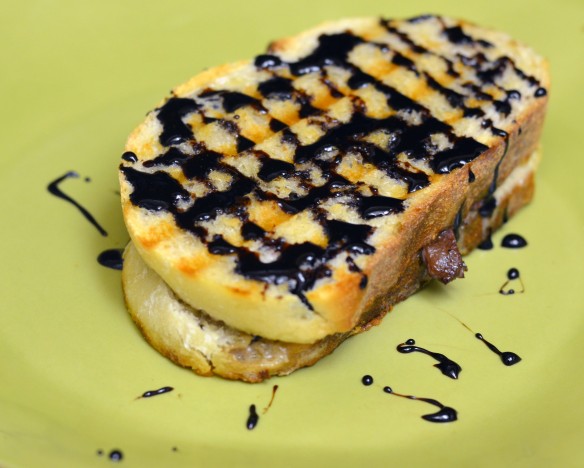 It took me seeing the food truck 3 times over the course of almost a year at different festivals in Seattle before finally tasting this goodness. The first time I remember seeing the truck there was a crazy long line, and we weren't even super hungry, so I skipped out on this particular gem of a sandwich. The second time we saw the truck, there was no line. Score you might think. Well there was no line because their generator was down, so they had no power to grill their grilled cheese. Bummer. The third time we happened to be hungry right at a festival right when the food trucks were beginning to serve at 11, so we were finally able to indulge. When we eat food trucks (when there are lots of them around), we typically only order one of the menu items, and sample from another truck. We wished we hadn't in this case because this sandwich was far superior to the crepe we got from a different truck. This was another case where I fully ate my half and left no extras for Dustin.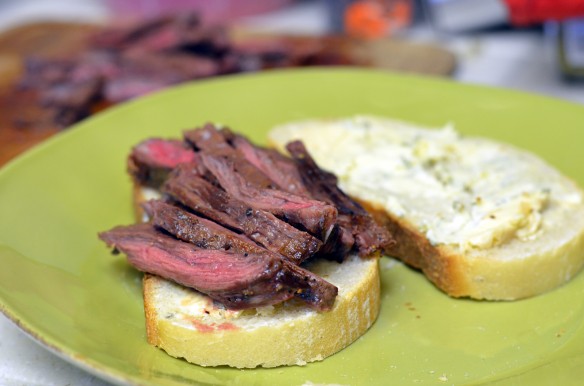 We didn't do an exactly faithful recreation at home. Our bread was different (not sourdough and not parmesan crusted unfortunately), and I didn't see borgonzola specifically at the store, so I found a spreadable (but equally delicious) blue cheese. Since we bought a raspberry balsamic vinegar (to make these pita sandwiches), our drizzle had a raspberry tinged rather than blueberry (I think it would be super fun to infuse my own balsamic vinegar). And finally, I totally forgot about the potato chips! When I wrote down what was on the sandwich after tasting it several months ago, I forgot to include potato chips on my list. Dustin even mentioned something about potato chips on a grilled cheese, but we chalked that up to false memory. With or without potato chips, this sandwich is delicious!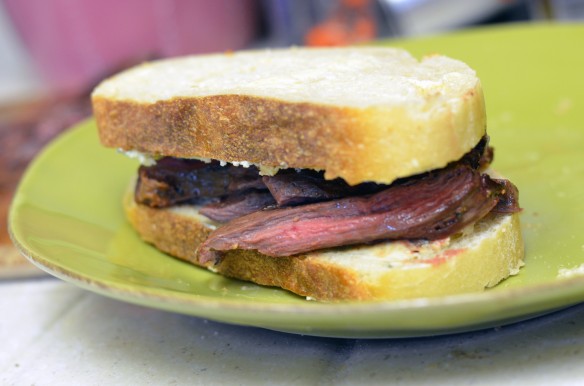 Steak & Cambozola Grilled Cheese with Raspberry Balsamic Drizzle
serves 2
1/2 pound grilled hangar steak (make sure not to overcook the meat since it will cook more during the grilled cheese-ifying process)
4 ounces Cambozola cheese
4 slices thick crusty bread
butter
potato chips, optional
2 ounces raspberry balsamic syrup (boiled down from about 3/4 on the stove for 10 minutes)
Spread a little bit of butter on the outsides of your bread. Spread cheese on the insides of all slices.
Place cooked hangar steak (and potato chips) on top of the cheese.
Assemble the sandwich and grill on a cast iron skillet or use a panini press until the outsides are nicely browned.
Drizzle raspberry balsamic syrup on top.