Barbecue & Bacon Mac 'n' Cheese
Lately macaroni and cheese fusion meals have been on mind (the buffalo chicken mac 'n'cheese being the most recent). Today's version of this classic American comfort dish takes on the flavors of barbecue sauce and sharp, smoky cheese. The sweet, spicy, and smoky all blend together for the perfect meal after a long day at work or a stressful midterm.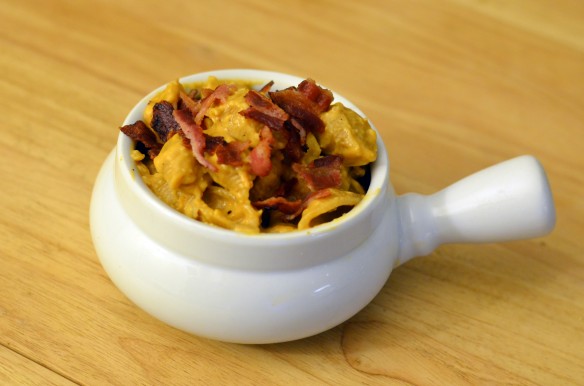 Ideally you'd thrown in some Texas brisket to make this a real barbecue mac 'n' cheese, but we don't have that in SoCal, so crumbled bacon alone had to do for the meatiness of the dish.
We served with pomegranate margaritas for an extra indulgent weekday evening to celebrate my statistics midterm being over and done with!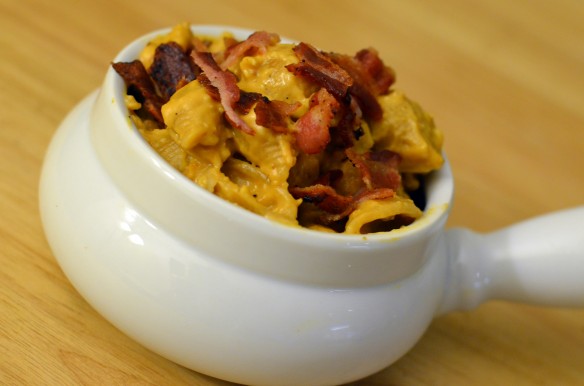 Barbecue & Bacon Mac 'n' Cheese
2 tablespoons unsalted butter
2 cloves garlic, chopped
2 tablespoons all-purpose flour
1 1/2 cups milk
1/2 cup smoked gouda cheese, shredded
1/2 cup sharp cheddar cheese, shredded
1/3 cup barbecue sauce
salt, to taste
pepper, to taste
smoked paprika, to taste
chile pepper, to taste
6 slices bacon, cooked and crumbled
3 cups whole wheat pasta shells
Bring a large pot of water to a boil. Cook pasta shells until al dente while making the sauce.
Melt the butter in a large deep dish skillet over medium heat.
Add garlic and cook for about 2 minutes.
Add in the flour and toast for several minutes.
Pour in the milk, stirring constantly and cook for about 15 minutes or until sauce thickens.
Stir in cheeses and barbecue sauce. Add in seasonings to taste.
Drain pasta shells and add to the cheese sauce, cooking on low for several minutes.
Top with crumbled bacon and serve warm.