Chocolate Chip Cookie Crusted French Toast
This French toast was supposed to be a reward to myself for running 8 miles in preparation for my half marathon. Instead it ended up being a reward for spending pretty much the entire day working on statistics homework. Welcome to graduate school life. I swear I was doing everything correctly, yet for some reason my answer to one question (that other questions built upon) didn't match the back of the book. Hours of my life were wasted redoing this problem over and over, checking every possible resource I could think of, making zero progress. By the time I gave up for the day, it was dark, my head was throbbing, and all I wanted to do was shower and curl up on the couch with the puppy. Running was not happening. If only statistics could burn calories the way running does....I'd have lost some weight today!
On the road trip one of the hotels we stayed at gave us a chocolate chip cookie upon arrival for belonging to their rewards program. Now I know DoubleTree's offer warm cookies when you check in there, which is a nice touch, but this effort from a non-DoubleTree was pretty lame— a prepackaged Otis Spunkmeyer cookie. Naturally we threw the cookie in our luggage, and once we arrived at our new apartment it was thrown into the kitchen cabinet, smooshed into a million pieces.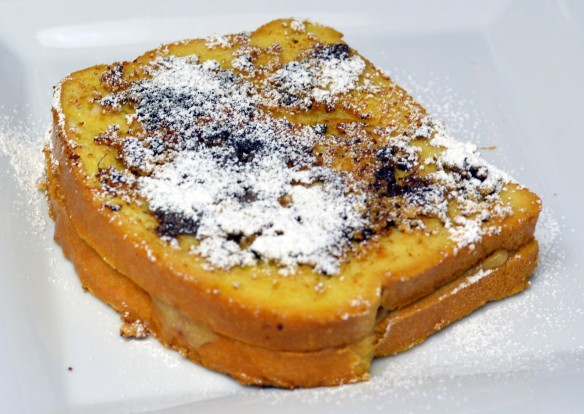 I thought about using the cookie crumbs as a ice cream topping or something exciting, but suddenly the perfect idea hit me while Dustin was away in San Antonio (I hope he isn't too mad since it was a spontaneous choice). Combine the chocolate chip cookie dough French toast (from the Cookie Dough Lover's Cookbook) idea with a menu item I saw on The Griddle Cafe (a cafe in Hollywood I want to try out soon that apparently makes amazing pancakes, French toast, and waffles) website— chocolate chip cookie crusted French toast. I think the only thing better than cookie dough French toast or cookie crusted French toast is having them both in one ridiculously rich breakfast treat. Pure genius if I do say so myself!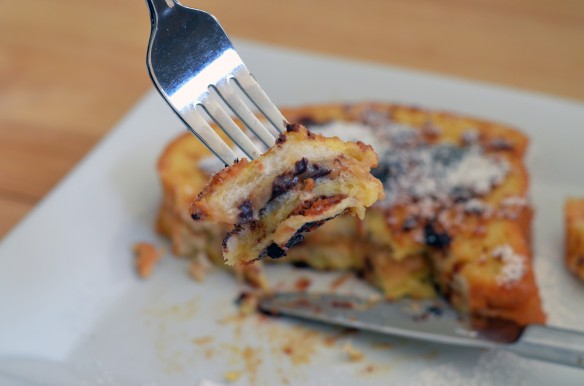 It's funny my thought process. When Dustin is gone, I don't even bother to take the time to grind and make my own coffee, but instead I rely on the free coffee in the lobby of our apartment, but I will take the time to make a decently elaborate breakfast for myself, especially if cookie dough is involved!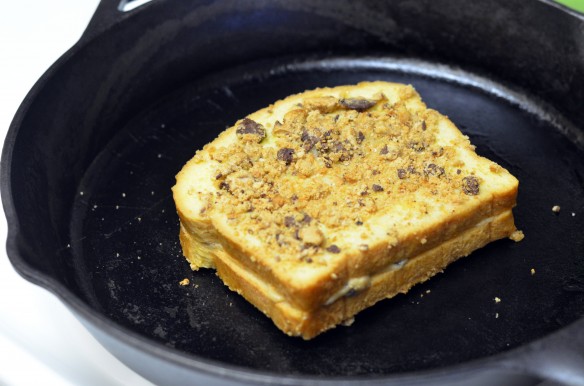 Notice how my cookie dough consumption is directly related to my stress level....And by the way, in case you were wondering, the back of the book was wrong!
Chocolate Chip Cookie French Toast
makes enough to serve two
Cookie Dough Filling
1 1/2 tablespoons unsalted butter, softened
1 tablespoon granulated sugar
1 tablespoon brown sugar, packed
3 tablespoons flour
1/8 teaspoon salt
2 teaspoons milk
1/8 teaspoon vanilla extract
2 tablespoons mini chocolate chips
Combine softened butter and sugars together in small bowl (using a spoon is fine).
Add in flour and salt until crumbly.
Add in milk and vanilla extract, stirring until smooth.
Stir in mini chocolate chips.
French Toast
4 slices thickly cut bread
1 egg, beaten
1/4 cup milk
1/4 teaspoon vanilla
1 medium-sized, hard/stale chocolate chip cookie, crushed
powdered sugar, for topping
Heat a griddle or cast iron skillet to medium heat. Spray with non-stick cooking spray.
Spread cookie dough between two slices of bread and place them together. Repeat with remaining bread slices.
Combine egg, milk, and vanilla extract in a large bowl.
Spread cookie crumbs out on a large plate.
Dunk cookie dough filled sandwich into egg/milk mixture, soaking thoroughly.
Coat soaked sandwich with cookie crumbs.
Place coated sandwich on heated griddle or skillet. Cook for about 3 minutes or until golden brown. Flip and cook for another 2-3 minutes. Cookie dough should be oozing out the sides.
Sprinkle with powdered sugar and enjoy!
recipe inspired by Cookie Dough Lover's Cookbook and The Griddle Cafe