Creamy Pumpkin & Tomato Spaghetti
Our "dating" anniversary was coming around, and I usually cook up something special for Erin. I'm not the most creative cook out there (like the lady), so I fell back on one of my staples— a creamy pasta. But this time around, I threw in an autumn twist I knew she would love. Pumpkin! Seriously, this girl is wacko insane for pumpkin. Unfortunately,  I must have gotten the ratios a little wrong because you couldn't really tell there was pumpkin in there. It was subtle, but a too subtle to easily identify. But once she knew I had added a little of her favorite food, Erin loved it a little extra more.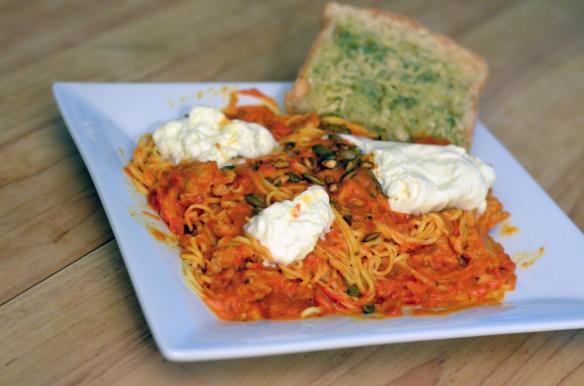 All of my pasta dishes depend on delicious homemade pasta. Making pasta from scratch is certainly a pain in the rear compared to opening a box, but I'm really having trouble now not making fresh pasta whenever we want Italian food. The amount of effort put in compared to how much satisfaction I get out makes it totally worth it.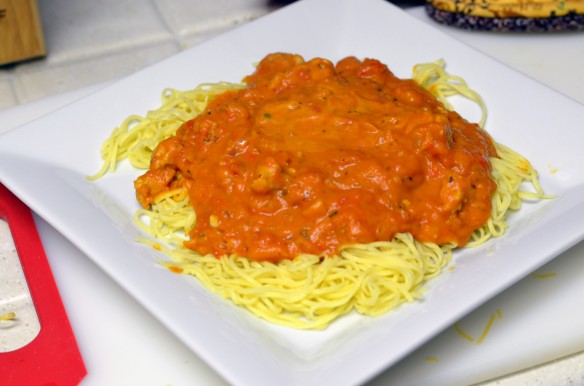 This pasta is made even more spectacular by the toasted pumpkin seeds and melt-in-your-mouth, fresh burrata! Of course, we couldn't forget the homemade garlic bread brought to you by Erin!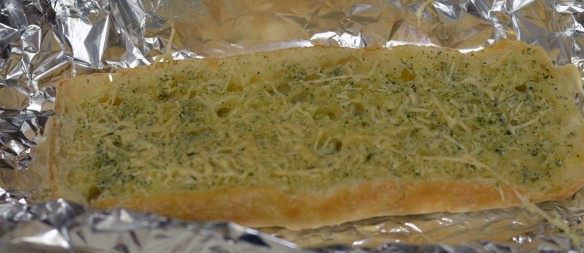 Creamy Pumpkin & Tomato Spaghetti
2 tbsp butter
1 tbsp olive oil
1 white onion, chopped
3 cloves garlic, diced
1 large can whole tomatoes
1 small can tomato paste
1 can pumpkin puree
1/4 cup cream
1/2 lb chicken sausage
homemade pasta, your favorite recipe
1/2 cup toasted pumkin seeds
small package burrata
In a large sauce pan over medium heat, cook butter, oil, onions and garlic until golden.
Add tomatoes, tomato paste, and pumpkin puree.
Stir and cook on low-medium heat
In a separate pan, cook chicken sausage until brown and cooked through.
Add chicken sausage to tomato sauce, and stir in cream.
Serve over homemade pasta and top with burrata and pumpkin seeds.