Hot Buttered Rum Apple Pie
I can't decide whether I like this apple pie or the Southern Comfort apple pie from the summer of 2012 better. I guess what is really clear here is that both contained alcohol, and both were outstanding variations of this classic fruit pie. As with the SoCo pie, the liquor cooks off and just leave behind a subtle flavoring that really enaahnces the eating experience.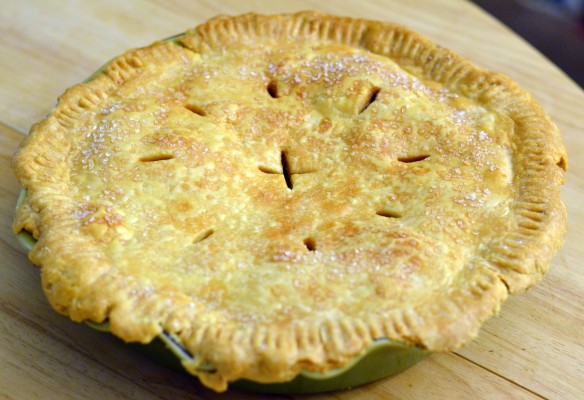 I've had this pie mentally earmarked in my Dahlia Bakery Cookbook, which has become quite the workhorse cookbook for me as of late. Thank you, Tom Douglas. After our Thanksgiving feast with my cohorts from UCLA, we still wanted the opportunity to cook our own favorites, so we celebrated with our own turkey and all of the fixings. This dessert was the finale of our epic dinner to be shared tomorrow (hopefully). The pie was baked slowly giving it an almost caramelized filling, and it made the apartment smell amazing.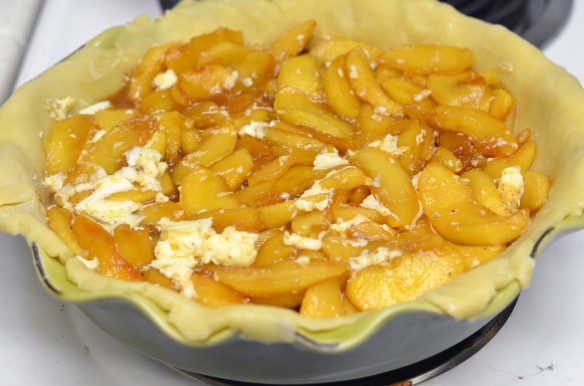 I didn't use the crust that was recommended in the book because it called for shortening, and despite my best efforts, I couldn't nail any down. So I used the all-butter crust from another favorite cookbook of mine, the Smitten Kitchen Cookbook. Dustin proclaimed it the best crust ever. I was fawning over the delicious filling too much to notice.
Pretty pie, isn't it? Very rustic chic.
Hot Buttered Rum Apple Pie
yields 1 9" pie
Crust
2 1/2 cups all-purpose flour
1 tablespoon granulated sugar
1 teaspoon salt
1 cup unsalted butter, cut into 1/4" pieces
6 tablespoons ice cold water
Combine the flour, sugar, in the bowl of a food processor.
Add the butter pieces then pulse in the food processor, until only small pieces of butter remain.
Add the ice water, one tablespoon at a time until a ball of dough forms.
Divide into two balls then flatten into discs and wrap in plastic.
Chill in the refrigerator until ready to use.
Roll out the discs to fit the pie plate (approximately 13" in diameter). Fit one inside the plate then save the other for the topping.
adapted from Smitten Kitchen Cookbook
Filling
6-8 apples (we used Pink Lady I believe)
1/3 cup granulated sugar
1/4 cup brown sugar, packed
1/4 cup dark spiced rum (we used Kraken rum)
4 tablespoons unsalted butter, diced
1 tablespoon + 1 1/2 teaspoons cornstarch
2 teaspoons vanilla extract
1 teaspoon cinnamon
1/4 teaspoon nutmeg
1/4 teaspoon salt
1 egg white, beaten
heavy cream, for brushing top
coarse sugar, for sprinkling
Peel and core the apples, then cut to 1/4" to 1/2" thick.
Heat two large sauté pans and divide the granulated sugar between them.
Cook the sugar until it melts and caramelizes.
As soon as the sugar turns an amber color, add in the apples, dividing between pans.
Cook the apples for about 8-10 minutes or until the apples are soft, but maintain their structural integrity.
Transfer the apples to a bowl and allow to come to room temperature.
Preheat the oven to 350º.
Once the apples have cooled, toss them with the brown sugar, rum, butter, cornstarch, vanilla, cinnamon, nutmeg, and salt until evenly coated.
Pour the filling into the prepared pie crust.
Brush the egg wash around the edges of the pie then press on the remaining dough and form a seal, crimping the edges with a fork if desired. Score the top of the pie.
Brush with heavy cream and sprinkle with coarse sugar.
Bake for 30 minutes uncovered. Remove from oven and tent with aluminum foil. Return to oven and bake for another hour. Remove foil from top and bake for a final 30 minutes (2 hours total baking).
Place on wire rack to cool for at least an hour before slicing and serving.
adapted from The Dahlia Bakery Cookbook