Nutella Rugelach
A few weeks ago, someone at school brought in a big box of rugelach from a bakery she frequented in her youth. There were all sorts of flavors, but the chocolate one stuck out as the best to me, so I thought I'd do my own version containing Nutella in celebration of Hanukkah.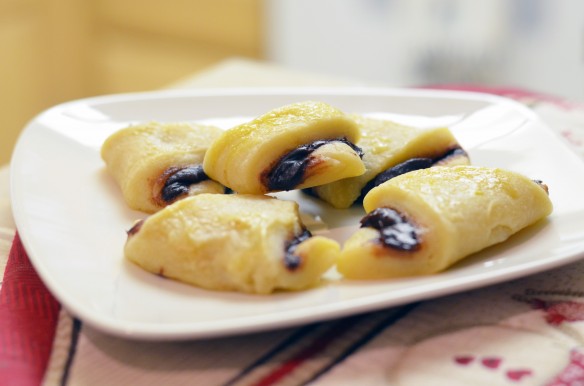 I also made these along with the cranberry white chocolate chip cookies of yesterday to take to the potluck holiday party at school. A little bit of Christmas, a little bit of Hanukkah— something for everyone. In the end I wasn't thrilled about how they looked, so I didn't bring them and they just became Hanukkah dessert for me and Dustin. As you can see they flattened out, and they didn't get the proper texture I'd been hoping for... probably because I didn't roll the dough thin enough but the more I rolled the dough the stickier it got. You definitely want cold dough and a floured surface when trying to make these guys, or else you'll end up with a big mess as I learned quite quickly.
Even though they aren't the prettiest cookies, they still tasted great, especially after sitting overnight and firming up a bit more. Here's a link to the recipe from Ina Garten (except with Nutella instead of apricot preserves in the center, which I think is a little dull in the middle of a cookie). I won't repeat the steps on here, especially since they didn't turn out quite right, but I think with some tweaks (rolling out the dough all the way and perhaps stopping in the middle of the rollout to re-chill the dough to prevent the stickiness problem) they could be perfect.
Happy Hanukkah!