Pumpkin Pie Ice Cream
I decided I wanted to make this ice cream about a day after all of the pumpkin pie we had last year was gone. Despite it's posting a week and half after Thanksgiving, this was made immediately after the holiday. Pumpkin ice cream would be nice, but pumpkin pie ice cream with chunks of real pumpkin pie is even better. I've definitely expressed my desires for ice cream to have chunks of yumminess in it before (see here). I'm not sure I can ever go back to eating a "simple" ice cream, happily at least.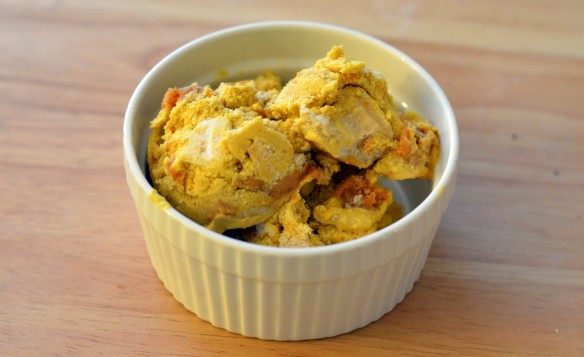 Knowing I was planning on adding chopped pie and for additional reasons you'll see tomorrow, I decreased the sugar in this ice cream, so not so surprisingly, it isn't super sweet. So if you make this treat and don't plan on dressing it up as I do, you may want to pump up the sugar to at least 1/2 cup.
To ensure that the chunks of pumpkin pie didn't get all mixed in with the ice cream (although that would have been quite good), I chopped and froze the chunks of pie beforehand. Oh, I used quite a bit of pie, so you got the goodness in each and every bite.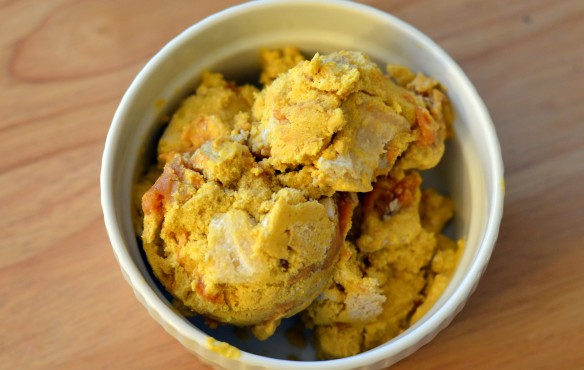 Pumpkin Pie Ice Cream
1 can pumpkin puree
1 cup heavy cream
2/3 cup half and half
1/4 cup brown sugar, packed
1 1/2 teaspoons cinnamon
3/4 teaspoon ginger
1/4 teaspoon cloves
1/4 teaspoon nutmeg
1/8 teaspoon salt
3 slices pumpkin, coarsely chopped and frozen
Combine all of the ingredients together in large bowl.
Cover the bowl and allow to chill completely at least 3 hours, or overnight.
Churn the ice cream according to ice cream maker's instructions.
In the last 5 minutes of churning, add in the frozen pie chunks.
Transfer to a freezer-safe container and freeze overnight or until desired texture is reached.
slightly adapted from Food.com