Sausage and Cheese Biscuits
I wanted the nostalgia of sausage balls this holiday season, but I didn't want plain sausage balls. I've had a couple of weeks off before I get crazy busy again, and I wanted to put this time to good use, baking new things.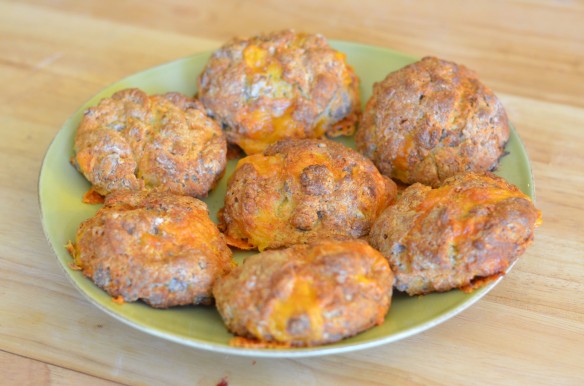 These sausage and cheese biscuits taste a lot like the real deal sausage balls, and they even look similar, just much, much larger. The flavors of the sausage balls I treasure are there, but the insides are much lighter and fluffier than that of a typical sausage ball. Slathered with a little butter on the tops, we had a nice post-Christmas breakfast with all of the nostalgic flavors I desired.
Sausage and Cheese Biscuits
yields ~9 biscuits
1 1/2 cups bread flour
1/2 tablespoon baking powder
1/2 teaspoon baking soda
1/2 teaspoon salt
1/2 teaspoon cracked pepper
1/4 red pepper flakes
1 teaspoon garlic powder
1 teaspoon dried basil
1 teaspoon dried oregano
1/4 cup unsalted butter, cold and cut into pieces
1/2 pound breakfast sausage, cooked
3/4 cup sharp cheddar cheese, diced into small chunks
2/3 cup yogurt
2 tablespoons milk
heavy cream, for brushing tops
Preheat oven to 425º. Line a baking sheet with a silicone baking mat or parchment paper.
Combine the flour, baking powder, soda, salt, and spices in a medium sized bowl.
Cut the butter into the flour mixture until pea size chunks remain.
Fold in the sausage and cheese.
Mix in the yogurt and milk.
Roll the dough out on a lightly floured surface until about 1/2" thick.
Use a large circular biscuit cutter to cut out biscuits and place on baking sheet.
Brush tops with heavy cream.
Bake for 20 minutes until biscuits are golden brown.
adapted from King Arthur Flour