Tar and Roses
Greetings from somewhere over the United States! As I am writing this, we are on our way home from a trip  to Indiana to visit my parents for an early Christmas. Our trip included an in-person viewing of a disappointing Texans loss, a visit with a good friend from high school, and ended in Evansville for a few days in the cold (with Kentucky BBQ—good but not Texas good). So that explains the absence for the last week or so.
Before we left for Indiana, we celebrated my birthday at Disneyland, and then the following evening, we had my nice birthday dinner at Tar and Roses, another of the top 101 restaurants in LA. It was a bit difficult to get a reservation here on a Friday night  (we ended up being early birds and taking a 6pm reservation), and we would end up seeing why. Additionally, the tables on each side of us were also celebrating birthdays (tables were small and close together, so you couldn't help but overhear the conversations of the people next to you), so it must be a pretty popular destination for special dinners.
We were a bit overwhelmed looking at the menu since so many things sounded good. We took a few of the waitress' recommendations and were off to begin our meal.
Our first course consisted of oxtail dumplings. Delicate and tender with a lovely dipping sauce, these were a great Asian-inspired way to start the meal. However, the real star of the show was the fried snapper for two, a Tar and Roses signature dish. Normally this sort of dish would not be my go-to, but I was feeling adventurous, and boy was this an adventure. Despite the dish being described to us, we expected some sort of pan fried fish. Wrong. We ended up with a deep fried snapper sitting up on the plate, starring directly at us (well Dustin, fortunately).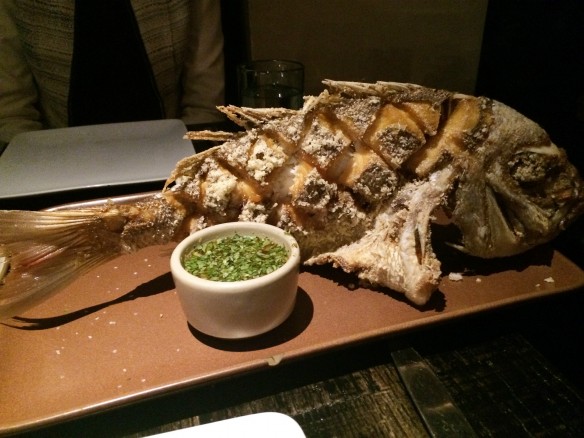 The fish was already scored, so it was low maintenance and simply required pulling perfectly cooked meat from the sides. Alongside the dish were some handmade cold soba noodles and a complementary dipping sauce continuing with some Asian influences. The fish was really reasonably priced for an entire main dish for two, and in my opinion totally makes the restaurant worth heading out to (bonus—we asked and it's not a seasonal menu item). The giant fish on the plate caused some stares throughout the restaurant, and I think seeing it on our table caused the couple right by us to take the plunge and order it.
We felt a little guilty about ordering fried fish, so we ordered an obligatory vegetable on the side. It turned out that the roasted broccoli with parmesan pudding and breadcrumbs was some of the best broccoli I've ever tasted. The broccoli was charred, and on it's own tasted delicious. But when combined with the parmesan pudding, basically a thick cheese sauce, it was divine. We were actually fighting over who got the last bite of broccoli!
No birthday dinner is complete without a dessert, and since I hadn't made one, we went with one from the restaurant—a strawberry ricotta crostata with honeycomb ice cream. I read online reviews that this dessert was a must-have, and let's just say we weren't disappointed. I think my favorite part was the ice cream (I've been spoiled by Dustin's yummy galettes, but don't get me wrong, it was still awesome).
We really liked the way they brought the check. I feel you can tell a lot about a restaurant by how they present the bill!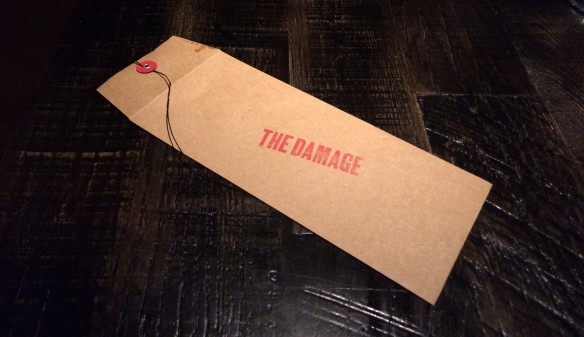 Two thumbs up for Tar and Roses!