Caramel Apple Galette
Dustin claims he is not the dessert maker in the family, but I think his galette making skills, suggest otherwise. This galette was my idea, and I fully intended to follow through, but when I woke up on Sunday morning feeling a little blah, Dustin took the lead and made most of the galette himself. He can be a little slow to write blog posts, so I'm writing for him. But he deserves full credit.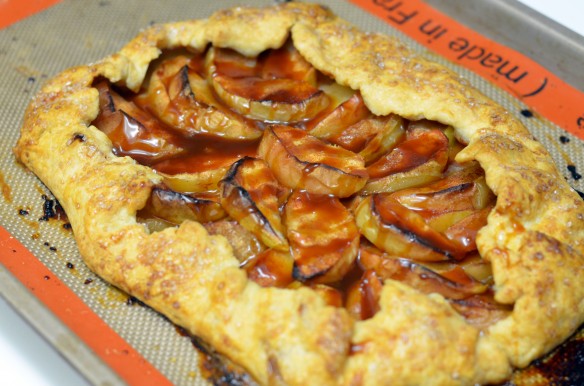 The crust on this galette was perfectly buttery and crispy, and the apple filling was like that of a perfect apple pie. Of course, caramel sauce goes well with apples and really takes this from tasty, but basic apple pie, to something a little more special. I may never eat apple pie without caramel again.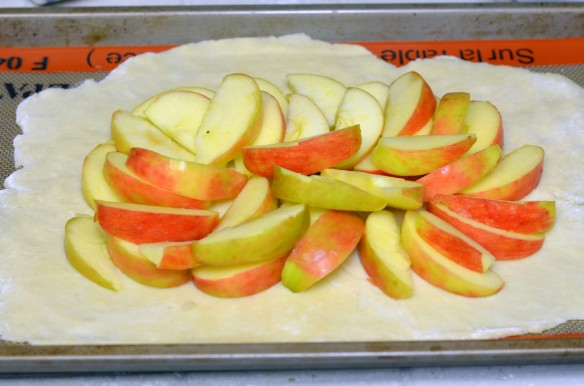 This caramel apple galette is a perfect Sunday brunch for two with just enough leftovers to enjoy a light breakfast on Monday morning.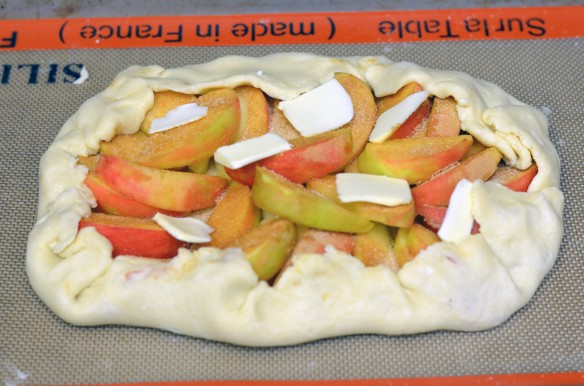 If you want to get extra fancy, make it a salted caramel apple galette. On one of my later slices, I sprinkled the top with some of the fancy coarse Christmas salt we still have.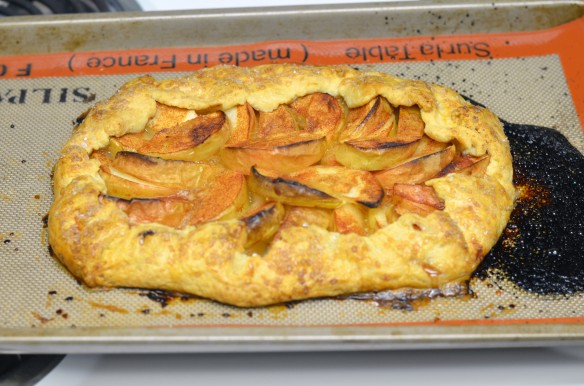 I only wish I had thought about it earlier because the only thing better than a slice of caramel apple galette is salted caramel apple galette!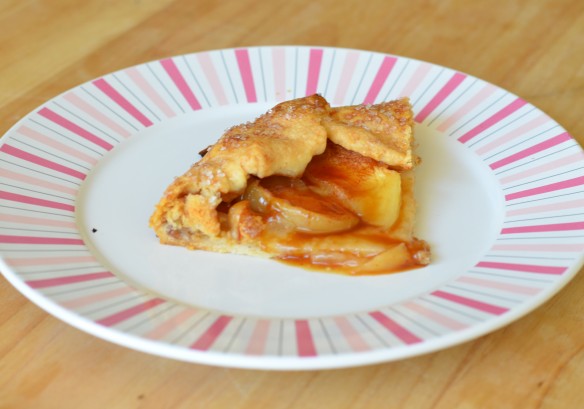 Caramel Apple Galette
Dough
1 1/2 cups all-purpose flour
1 1/2 teaspoons sugar
1/4 teaspoon salt
10 tablespoons cold unsalted butter, in slices
1/3 cup ice water
Combine the dry ingredients and butter in a food processor and process for 5 seconds. Drizzle in ice water and process for 10 more seconds.
Transfer dough to a work surface and form into a disk. Wrap in plastic wrap and let refrigerate for 15 minutes.
Flour your work surface, and roll out the dough to a large rectangle, about a 1/4 inch thick.
Filling
3 Pink Lady apples
1/2 lemon, juiced
2 tablespoons granulated sugar
2 teaspoons cinnamon
1 tablespoon butter, in slices
1 egg, beaten + 1 tablespoon water
Coarse sugar, for sprinkling
1/4 cup caramel sauce
Coarse salt, for sprinkling (optional)
Preheat oven to 400°. Line a baking sheet with parchment paper or silicone baking mat.
Slice apples, and squeeze lemon juice over them to prevent oxidation.
Place apple slices in the middle of the dough, leaving a good 1 - 1 1/2 inch border of dough.
Fold the dough up over the apple slices.
Mix together sugar and cinnamon in a small bowl. Sprinkle over apple slices.
Place sliced butter over apples.
Make an egg wash with the beaten egg and water. Brush egg wash on the folded-over dough.
Sprinkle coarse sugar over the egg wash.
Bake for an hour. Remove from oven and let cool slightly.
Drizzle caramel sauce and salt over the galette. Slice and serve!