Ultra Pork Potato Nachos
I promised great leftovers from the Pork Shoulder Roast. And I deliver: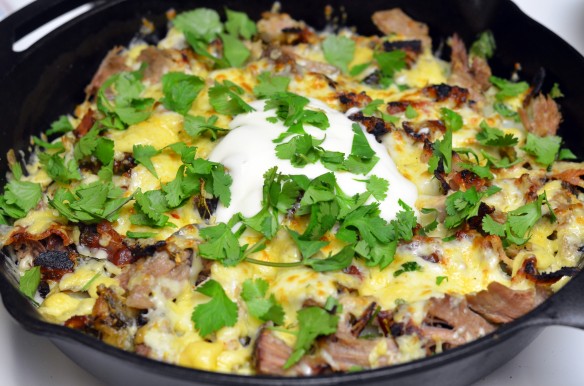 The are truly ultra nachos. Let me just list the delicious ingredients: pull-apart pork shoulder, crispy bacon, smoked cheddar, habanero pepper jack, sour cream, and cilantro topped over crispy thin potatoes sizzled in bacon grease. These are unbeatable!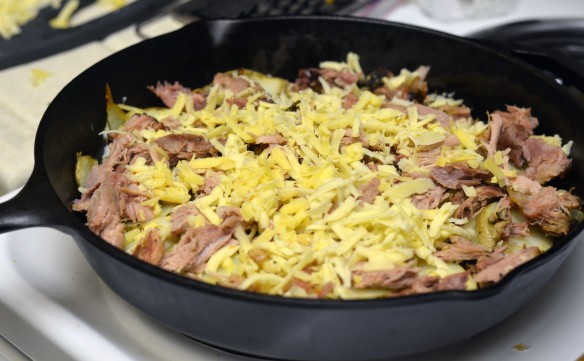 You know its good when you pop it in the broiler for a few minutes and it comes out like this: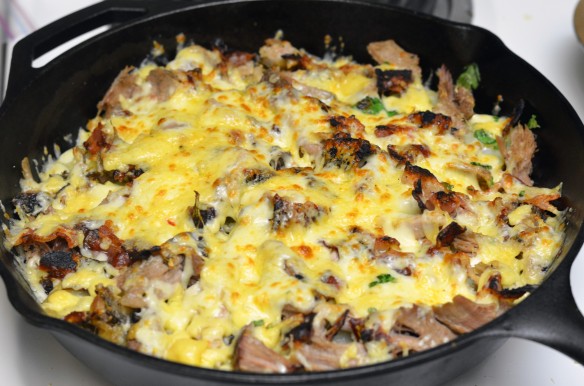 Perfect football food. Made up for the sucky Texans game :(
I don't have to say much more. You should make; it is obvious.
Ultra Pork Potato Nachos
Serves 2-3
leftover Pork Shoulder Roast (recipe)
4 russet potatoes, sliced thin
olive oil
salt
1-2 cup smoked cheddar, shredded
1-2 cup pepper jack, shredded
4 slices bacon
cilantro, chopped
sour cream
Layer the potato slices on 2 greased baking sheet and toss with olive oil and salt.
Bake in the oven at 450° for 15 minutes, flipping once.
In a skillet, cook the bacon until crispy. Remove to a paper towel and let cool.
Reserve the bacon grease in the skillet and layer potatoes into the skillet.
Add pork, bacon and cheeses over potatoes.
Broil in the oven for 5 minutes or until cheese is golden.
Sprinkle cilantro and spoon on sour cream.
Adapted from Oh Sweet Basil