Buffalo Chicken Pizza
Why we have not yet incorporated our favorite buffalo chicken flavors into a pizza is beyond me. We made this pizza the other night when we watched the college football national championship game. Football food at its finest— hot sauce mixed with butter, chicken, blue cheese, onion (for some crunch instead of celery), as well as some burrata (even thought it's not buffalo chicken-y we had it on hand, and it makes all pizzas better) all on homemade pizza dough with coarse sea salt as a finisher. Dipping bites in sour cream makes it seem more like eating wings.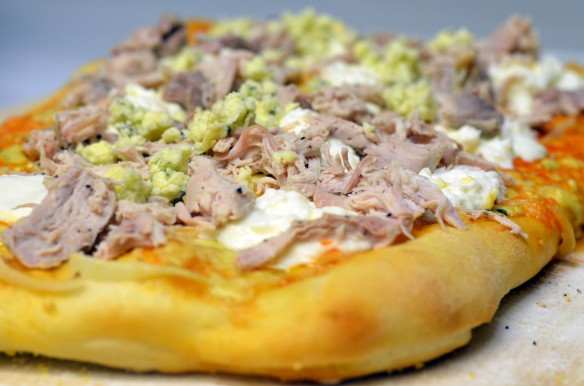 Our grocery store didn't have Frank's hot sauce, and we only had a little bit left, so we combined our remaining Frank's with Tapatio, which is hotter. We expected the pizza to be pretty spicy, but with the butter and all of the cheese on top, it really is perfectly balanced and actually pretty mild. Feel free to amp up the hot sauce if you desire hotter.
Buffalo Chicken Pizza
yields 1 pizza
1/2 cup hot sauce
3 tablespoons unsalted butter
2/3 cup blue cheese, crumbled
1/4 white onion, sliced
1/2 lb chicken, poached and shredded (you could use rotisserie chicken from the grocery store, too)
1/4 cup burrata
coarse sea salt
cornmeal
Preheat the oven and pizza stone to 525º. Cover pizza stone with cornmeal to prevent sticking.
On a cornmeal dusted pizza peel or baking sheet, stretch out the dough as thin as it will go without ripping.
In a small pan over low heat, combine the hot sauce and butter until smooth.
Spread the hot sauce over the dough,
Top with with blue cheese and onion.
Bake for approximately 8 minutes until crust edges are browned.
Top with poached chicken, dollops of burrata, and salt.
Allow to cool for several minutes before slicing.