Chicken Enchilada Mac 'N' Cheese
Well it's finally happened. We hit the point where we weren't able to make a daily post. I really thought it would happen last quarter, but I made it through. Just into the third week of the winter quarter, I already have a lot more work and a lot more responsibility. I definitely wouldn't have made it through last quarter without some help from Dustin though. He's taken on a much bigger role in cooking and post writing than in the past.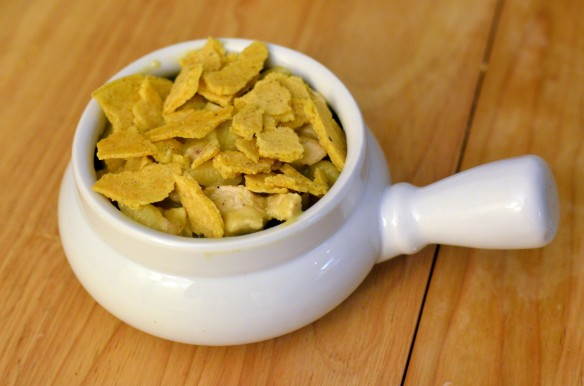 What's funny is that we've definitely had enough recipes to post on a daily basis. We've actually been eating dinner at home a lot more lately, so we have lots of potential savory posts (desserts are lacking as my free time is consumed by school). Taking the time and energy to write out the posts is proving to be the most difficult part.
However, last Saturday we made a delicious meal using the leftover pasta from the the burger macaroni and cheese and corn tortillas from our Cubano quesadillas (coming soon to a post near you) as breadcrumbs for enchilada inspired macaroni and cheese. To up the enchilada factor, we used enchilada sauce (Rick Bayless' garlic and tomatillo Frontera enchilada sauce to be exact, but it would be tasty with a red sauce, too).  And to make it appropriately spicy and flavored, we added in taco seasoning and used Habanero jack cheese.
Sunday morning (5 AM to be specific) was my first-ever half marathon, so naturally I used this as an excuse to carbo-load! My half marathon required a 3 AM wake up call and then took me through Disneyland and the streets of Anaheim. I wasn't sure I could actually make it though all 13.1 miles, and at times, I really wanted to quit. But I persevered and made it through. My overall time wasn't particularly fast, but I managed to run (and when I say run, I was doing what a runner would consider jogging) pretty much the whole time, only walking to hydrate, and I actually clocked my fastest mile on mile 13! That must have been a combination of adrenaline, knowing I was so close to being able to rest, and knowing a waffle sandwich from Bruxie was waiting for me as a post-race snack!
As I write this a little more than 24 hours after I crossed the finish line and was awarded my medal, all of the muscles in my legs are killing me and my knee joints are weak (Dustin keeps laughing at me whenever I get up to walk), but I'd absolutely do it again with a little bit smarter training.
Here's how impressed the girls were with my feat.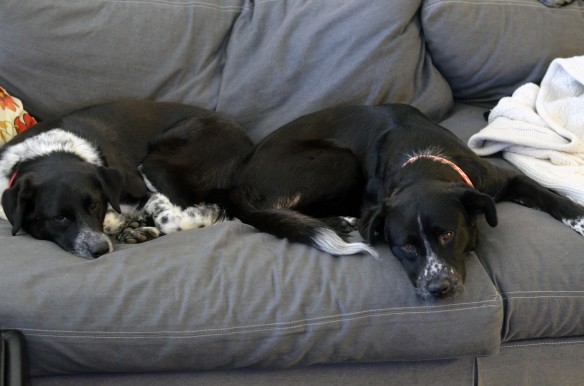 Chicken Enchilada Mac 'N' Cheese
serves 3
1/2 lb chicken, poached and shredded
8-ounces pasta shells
1 tablespoon butter
1/4 red onion, chopped
1 clove garlic, pressed
1 tablespoon all-purpose flour
3/4 cup milk
8 ounce packet enchilada sauce
1 cup pepper Jack cheese, shredded
2 teaspoons taco seasoning
salt, to taste
pepper, to taste
4 corn tortillas, crumbled
If not already cooked, poach your chicken and set aside.
Bring a large pot of water to a boil and cook the pasta shells until al dente.
While pasta is boiling, begin to make your cheese sauce by melting the butter in a large, sided pan.
Saute the onions and the garlic for just a minute, then add the flour and cook until a paste forms.
Add in the milk and cook until the milk thickens.
Add in the enchilada sauce as well as the cheese and cook until desired thickness is reached.
Season with taco seasoning, salt, and pepper.
Add in chicken and pasta, stirring to coat with sauce.
Divide among bowls and sprinkle with tortilla crumbles.