Chocolate Peanut Butter Cup Muffins
I'm most definitely not a morning person. Fortunately my schedule as a grad student changes and I only have a couple of what I consider to be early mornings. When you do have to leave the house pre 8 AM, these muffins are the best way to convince yourself to get out of bed. Peanut butter stuffed in the middle of a chocolate muffin— it's like eating a peanut butter cup for breakfast. And get this, it's actually nutritionally not that bad for you!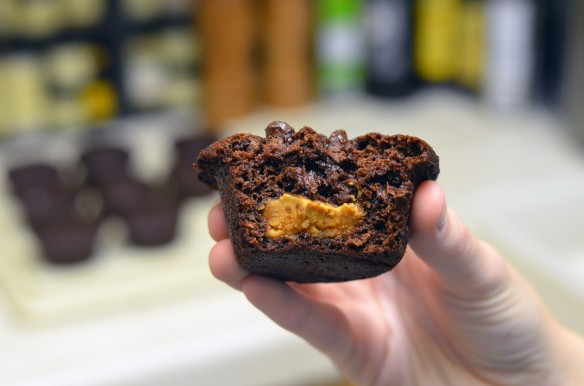 As great as the perfect blueberry muffins and the Nutella stuffed chocolate chip muffins are, they each have their fair share of oil and/or butter. Not these decadent muffins. The only fat in these muffins comes from a single egg and of course the peanut butter filling in the middle. I used the same process as the Nutella muffins for making these muffins and have had great success except I replaced Nutella for the peanut butter and added copious amounts of cocoa powder to the dough!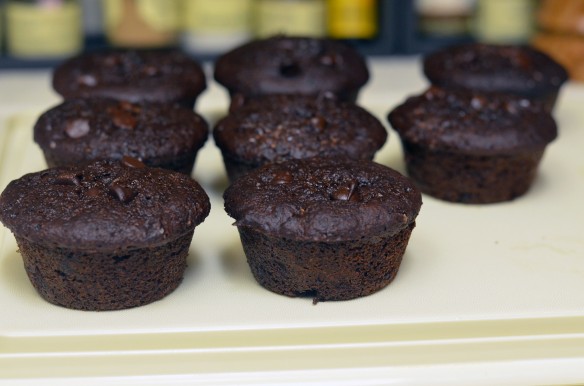 Even though I typically get breakfast provided free of charge at my morning Friday meeting, you can bet that I'll be eating one of these over a store bought bagel before I head out!
Chocolate Peanut Butter Cup Muffins
12 tablespoon sized scoops creamy peanut butter
3/4 cup applesauce
6 ounces non-fat Greek yogurt (I used one individual sized container)
1 egg
1/3 cup granulated sugar
1/3 cup honey
1 1/2 teaspoons vanilla extract
1 1/4 cup whole wheat pastry flour
1/2 cup unsweetened cocoa powder
2 teaspoons baking powder
1 teaspoon baking soda
1/2 teaspoon salt
3/4 cup chocolate chips
sparkling sugar, for sprinkling (optional)
Scoop out balls of peanut butter and place on parchment paper-lined baking sheet. Allow to sit in the freezer at least 30 minutes until hardened.
Preheat the oven to 425º. Spray a muffin tin with non-stick cooking spray.
Combine the applesauce, Greek yogurt, egg, sugar, honey, and vanilla extract in a large bowl until smooth.
In a medium sized bowl, sift together the flour, cocoa powder, baking powder, baking soda, and salt.
Slowly add the dry mixture to the wet mixture and mix with a wooden spoon until just combined.
Fold in the chocolate chips.
Divide evenly among the muffin tin cavities.
Remove the peanut butter from the freezer and gently press each ball into the center of the muffins, making sure to cover with batter.
Sprinkle with sparkling sugar.
Bake for 5 minutes, then without opening the oven, turn down to 350º, and bake for another 13-15 minutes until muffins are baked through.
Allow to cool in the pan for at least 15 minutes before transferring to a wire cooling rack to cool completely.