Potato & Egg Beer Breakfast Tacos
I told Erin I wanted to make breakfast tacos for a Sunday morning. We debated all the possible tacos and settled on potato and eggs (plus cheese because Erin is Erin). And Erin's input was that she wanted really really crispy potatoes. I told her I'd do my best considering she won't let me deep fry that early in the morning :) My potatoes came out pretty crispy but not as perfect as a proper deep fry, so we have something we need to try again!
We surrounded these yummy egg/potato/cheese/salsa filling with corn tortillas. But not just any corn tortillas— beer corn tortillas.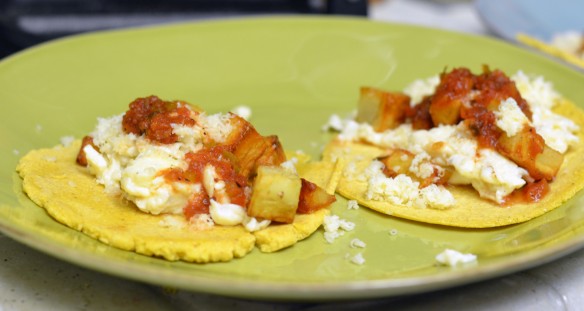 Thanks to Erin's mom's gift, The Craft Beer Cookbook, I have a plethora of beer infused foods I can cook up in our house. These tortillas are super simple. Traditional corn tortillas with masa harina, salt, and beer instead of water. They are so interesting and unique.