Puff Pastry Pecan Baklava
It's been a long time since I've made dessert for us. Not since the crystallized ginger chocolate chip cookies three weeks ago, which is indeed, a really long time in our life. Yeah, this quarter of grad school has found me so much busier than last quarter. But I had an extra sheet of puff pastry in the freezer, and I really wanted to make a baklava-like treat. Finally last weekend I got my tired butt off the couch while Dustin made dinner and ensured we had dessert for the evening. Good decision.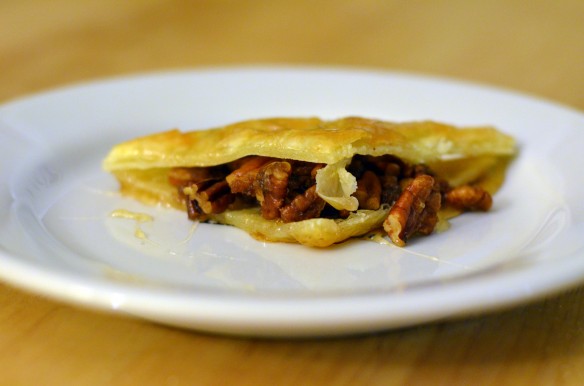 Puff pastry and phyllo dough aren't quite the same thing, so the result isn't the exact same texture as what you might find at your favorite Mediterranean restaurant. But the baklava was good enough for Dustin and I to eat it for dessert multiple days in a row and for breakfast, which definitely means something. You'll want to eat the citrusy honey syrup by the spoonful, and the nut filling is the perfect mixture of sweet and salty.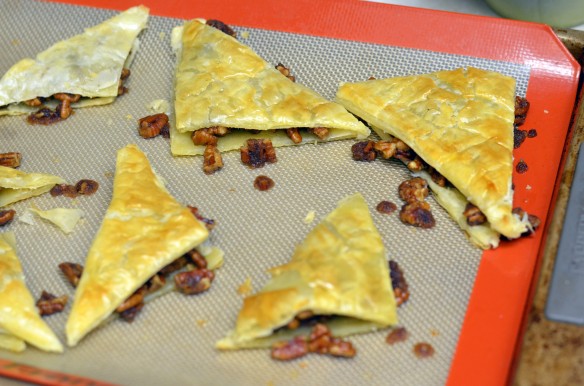 The original recipe that I adapted pulled the puff pastry apart, which I tried, but I found it made the layers too thin and quickly went to using un-pulled apart pieces of puff pastry.
Don't worry, more desserts will be made (and shared) this upcoming weekend because it's Super Bowl time, and we are hosting a party to cheer for the Seahawks!
Puff Pastry Pecan Baklava
Baklava
1 sheet puff pastry, thawed
1 egg, beaten
1/4 cup unsalted butter
1 cup pecans, chopped (any desired nut will do)
1/3 cup packed brown sugar
1 teaspoon salt
Preheat the oven to 375º. Place the puff pastry on a silicone mat or parchment paper lined baking sheet with sides. Score the dough creating 16 triangles of puff pastry.
Brush the egg over the top of the puff pastry and bake for 10 minutes until golden and puffy.
In a small pot over medium heat, melt the butter. Add in the pecans, brown sugar, and salt, cooking and stirring until the sugar is dissolved and the pecans are covered in a syrupy sauce.
Place the pecan mixture on top of 8 of the puff pastry triangles. Place remaining puff pastry triangles on top of the pecan mixture.
Place the baking sheet back in the oven for 5 minutes. In the meantime, make the syrup.
Syrup
1 cup granulated sugar
1/2 cup water
1/4 cup honey
1/2 lemon, juiced and zested
In a small saucepan, combine the sugar, water, honey, lemon juice, and zest.
Bring to a boil then reduce to simmer, cooking for 10 minutes until thickened.
Pour syrup on top of the puff pastry triangles and allow to sit for at least an hour and a half to cool.
Eat and enjoy!
adapted from Campbell's Kitchen