Tortilla Chip Crusted Chicken Taco Salad with Avocado Chipotle Dressing
After the success of the Doritos crusted chicken tenders, we wanted to give a Mexican twist to the idea and crust chicken with tortilla chips, and serve it on top of a salad. Pretty healthy, right?
The dressing on its own is a little boring— just chipotle powder blended with light sour cream and avocado, but when served with the tortilla chip crusted chicken, lettuce, tomato, red onion, roasted bell peppers, black beans, and shredded Mexican cheese everything really pops.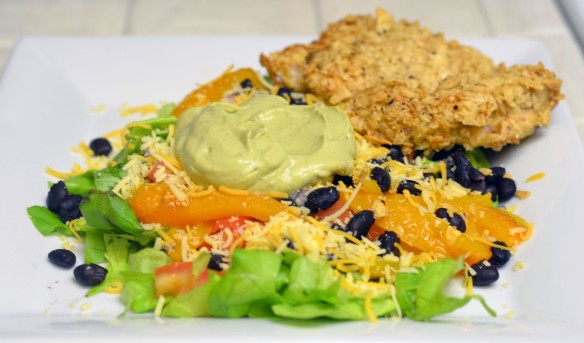 This meal doesn't take too long to come together once the chicken is done (first floured, dipped in egg wash, covered in crushed tortilla chips and baked at 400º for 20-ish minutes), and there really isn't a recipe other than mixing the aforementioned ingredients together in the ratios of your choosing. I recommend lots of cheese! You could also add some hot salsa or some jalapeño if you wanted a little kick!