Fennel Sausage Pizza
As good as the Animal Style Cheeseburger Pizza was, it was not, however, our special Valentine's pizza. For that evening, we went with something a little fancier feeling and more sophisticated in flavor (we did make double the amount of pizza dough when we made the cheeseburger pizza to cut down on our Valentine's evening work).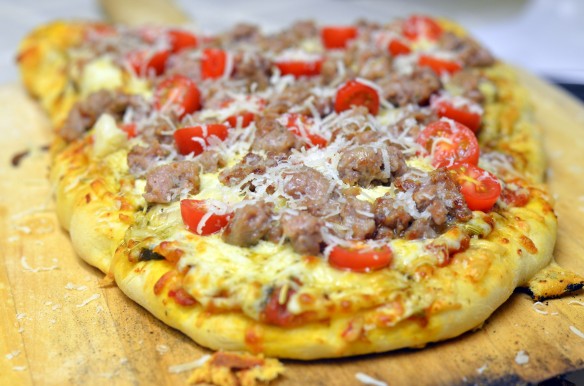 Dustin made a homemade sauce, we used a blend of several cheeses (mozzarella, parmesan, and pecorino, a cheese we are incorporating into just about everything these days), as well as a nice fennel sausage purchased from the market at Farmshop, spiced with lots more fennel seed (currently one of our favorite flavors/obsessions).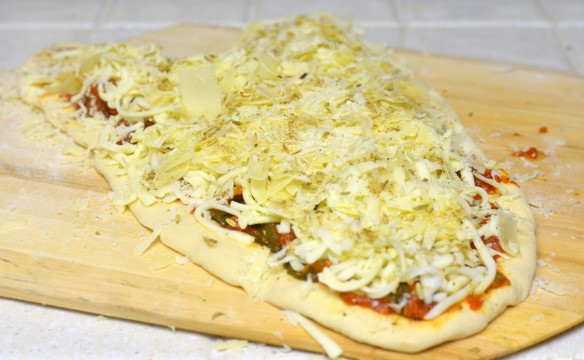 But just because this was our Valentine's Day pizza (and somewhat haphazardly shaped into a heart), doesn't mean it's not appropriate for any time you want a damn tasty pizza!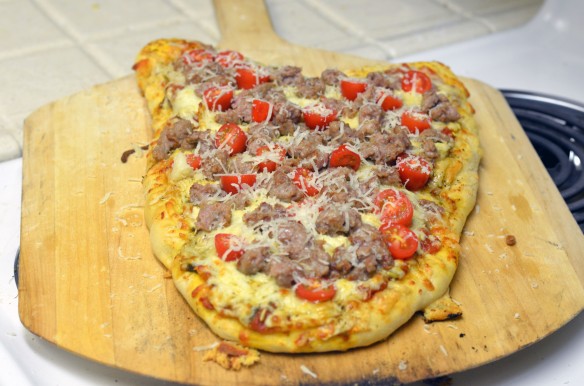 Fennel Sausage Pizza
1 batch pizza dough
3/4 cup mozzarella cheese, shredded
1/4 cup parmesan cheese, shaved
1/4 cup pecornio cheese, shaved
2 teaspoons pizza seasoning (or desired combination of dried basil, oregano, and red pepper flakes)
2 teaspoons fennel seed
1/2 lb fennel sausage
1/2 cup cherry tomatoes, sliced in half
Preheat the oven (with a pizza stone inside) to 500º.
On a pizza peel, roll the pizza dough out to an approximately 14" in a diameter circle.
Top with homemade pizza sauce.
Cover with cheeses.
Top with spices.
Bake for 8 minutes.
While the pizza is baking, cook up the fennel sausage. Drain and set aside.
Remove the pizza from the oven and top with cooked sausage.
Allow to cool for several minutes before slicing and enjoying!