Animal Style Cheeseburger Pizza
Dustin thinks we should take this idea to In-N-Out and try to sell it to them. I have to admit that after eating it, my ever-present craving for an In-N-Out Burger, Animal Style was completely gone because honestly, this was so much better. This pizza far exceeded my expectations, and this pizza was my idea.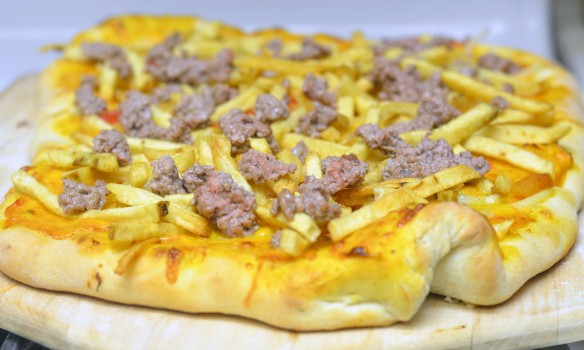 Basically this pizza is all of the flavors you expect in a cheeseburger piled on a pizza crust. There is lots of ground beef, cheddar, tomatoes, onion, and a replica of In-N-Out's Animal Style sauce instead of pizza sauce. Amazing. All of those ingredients probably would have been enough for an outstanding pizza, but we took it up a notch and picked up some legit In-N-Out fries to throw on top. What's a cheeseburger (pizza) without fries?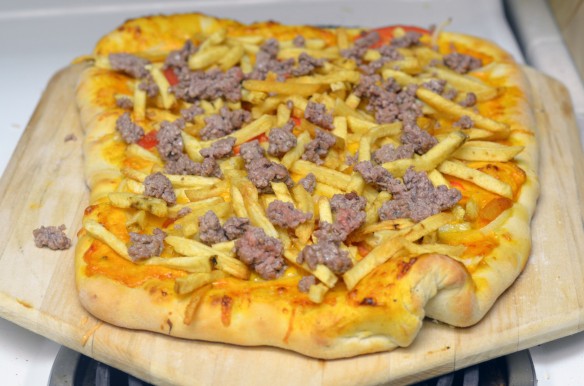 Animal Style Cheeseburger Pizza
1 recipe pizza dough
1 cup cheddar cheese
1/2 white onion, sliced
1 tomato, sliced
1/2 lb ground beef
1 container In-N-Out French fries (optional, but not really!)
Preheat the oven (with a pizza stone) to 500º.
On a pizza peel dusted with cornmeal, roll the pizza out to an approximately 14" circle.
Spread the animal style sauce on top of the pizza dough.
Top with cheese followed by the sliced onion.
Bake for 8 minutes.
While the pizza is baking, cook up the ground beef then drain and set aside.
Remove pizza from the oven, top with ground beef, tomato slices, and French fries.
Wait several minutes before slicing and enjoying!