Pesto Chicken Lasagna
This pesto chicken lasagna is probably my favorite lasagna we've made. In fact, this could be one of my favorite all-around dishes we've made in the recent past. I was sure it would be good (the main ingredient is pesto...), but my expectations were definitely exceeded. The texture of the noodles came out great, but the flavor is what blew me away.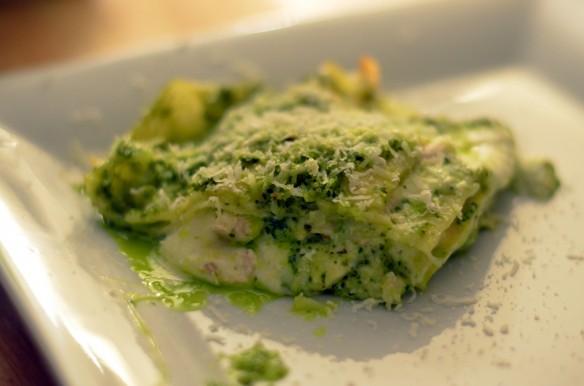 This lasagna made for great leftovers, too (alongside cheesy bread...can you say carb overload?).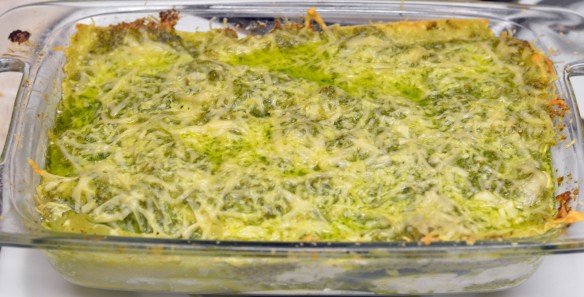 Pesto Chicken Lasagna
yields 1 9"x13" dish
15-ounces ricotta cheese
2 cloves garlic, pressed
1 cup mozarella, shredded
1 cup parmesan, shredded and divided
12 sheets of lasagna, no-bake or parboiled for 4 minutes
3/4 lb chicken, poached and shredded
1 1/4 cups pesto
Preheat the oven to 350º. Spray a 13"x9" baking dish with cooking spray.
Combine the ricotta, garlic, mozzarella, and 1/2 cup parmesan in medium-sized bowl.
Place four noodles along the bottom of the baking dish.
Spread a thin layer of pesto over the noodles followed by half of the ricotta mixture and half of the chicken.
Place another layer of four noodles down followed by a layer of pesto the remaining ricotta mixture and chicken.
Place the remaining noodles on top and cover with remaining noodles and parmesan.
Bake for 20 minutes until the parmesan on top is golden.
Allow to cool for at least 5 minutes before slicing and serving.