Root Beer Pulled Pork
We've made Dr. Pepper pulled pork, but I thought a nice root beer-y flavor would be equally delicious. So we busted out the crockpot and cooked some pork shoulder all day long (seriously the apartment smelled soooo good). We didn't make sandwiches this time around, but just ate it straight with BBQ sauce. We've had a few issues getting fall apart pork shoulder in the oven recently, but no issues with the crockpot!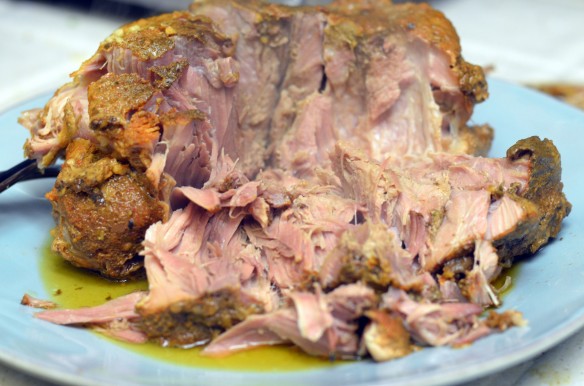 You can taste the sweet hints of root beer, but it definitely isn't overpowering. We recommend using a good root beer. We used Waialua Soda Works Root Beer (from Hawaii) and were pleased with the final product.
Root Beer Pulled Pork
2 lb pork shoulder
2 teaspoons garlic powder
2 teaspoons smoked paprika
2 12 ounce bottles root beer
2 tablespoons brown sugar
2 tablespoons Worchester sauce
BBQ sauce, for serving
Rub the pork shoulder with garlic powder and smoked paprika.
Place the pork shoulder in a crockpot along with root beer, brown sugar, and Worcester sauce.
Cook on high for about 2 hours and then cook on low for about 4 hours.
Rotate the meat halfway through cooking.
Serve with BBQ sauce.