Skittles Cookies
If the Texans weren't going to make it to the Super Bowl, and let's face it, we realized quite early on this season that that wasn't going to happen, there is no team other than the Seahawks we would have rather picked to win it all. Since the Texans were usually the early game and the Seahawks the late game, when we lived in Seattle we'd usually come home from the bar following the Texans viewing and turn the Seattle game on. We soon declared the Seahawks to be our favorite NFC team. We rooted for them from afar this season (apart from the time they played the Texans), and we are super bummed we moved a few months before they won it all because seeing the city erupt yesterday would have been epic.
But fortunately our best bud from Seattle happened to plan a business trip to LA for the upcoming week, so we were at least able to celebrate the victory with him. It was the next best thing to being in Washington in person.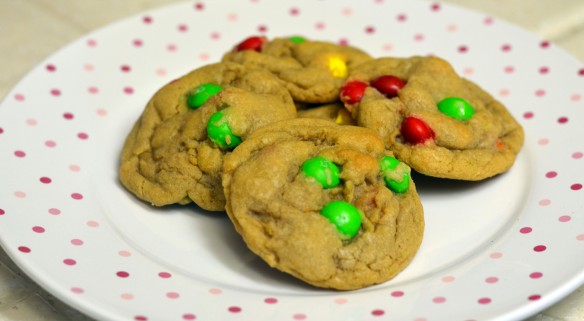 To celebrate game day, we made special desserts in honor of Marshawn Lynch and his favorite candy, Skittles, AKA "power pellets." Good thing we weren't in Seattle because apparently Skittles were such a hot commodity in Seattle that just about all stores were sold out. A smart Hawks fan would have remembered to buy a bag of mixed berry Skittles in addition to the regular ones, so we would have both blue and green skittles. Oh well, life went on even though they were too many orange Skittles in the cookies. One interesting thing about these cookies is that the Skittles might harden up after the cookies have cooled. We can't be certain the oven was the culprit of the hard Skittles because we also ate some by themselves and they were much harder than your standard Skittle, so maybe harder Skittles in the cookies was a result of a weird bag. Either way eat them fresh from the oven if you can, because honestly, all cookies taste better fresh from the oven. Warming them up in the microwave helps soften them if fresh from the oven isn't an option. The cornstarch in these cookies keeps them nice and soft, and you'll definitely go back for seconds!
Even though the Super Bowl is over, these cookies would still be a fun treat for any other time of the year! You also may want to warn people there are Skittles in the cookies...not M&Ms, or they could be in for a (fun) surprise. Oops!
Skittles Cookies
yields ~2 1/2 dozen cookies
3/4 cup unsalted butter, softened
1/2 cup granulated sugar
3/4 cup dark brown sugar
1 large egg + 1 yolk, room temperature
1 1/2 teaspoons vanilla
2 cups all-purpose flour
3/4 teaspoon salt
3/4 teaspoon baking soda
1 tablespoon cornstarch
1 1/2 cups Skittles
Cream the butter and sugars in a large bowl until light and fluffy.
Add the egg and the yolk, one at a time, mixing until incorporated.
Add in the vanilla extract.
In a medium sized bowl, sift together the flour, salt, baking soda, and cornstarch.
Slowly add the flour mixture to the wet mixture, stirring until just combined.
Fold in the Skittles.
Cover with plastic wrap and allow the dough to chill for at least several hours, preferably overnight to prevent spreading.
Preheat the oven to 350º. Line baking sheets with silicone baking mats.
Use a medium sized cookie scoop to scoop out balls of dough and place on baking sheets.
Bake for 10-11 minutes until cookies look slightly underbaked.
Allow to cool on the pan for at least 5 minutes before transferring to a wire cooling rack.
slightly adapted from my Butterscotch Chocolate Chip Cookies