Bailey's Cheesecake Bars
Last year for St. Patty's Day I made the Momofuku Grasshopper pie and two years ago I made these Guinness cupcakes with Bailey's frosting;. I thought it was about time to bring out the Bailey's again this time as the star in the form of cheesecake rather than frosting.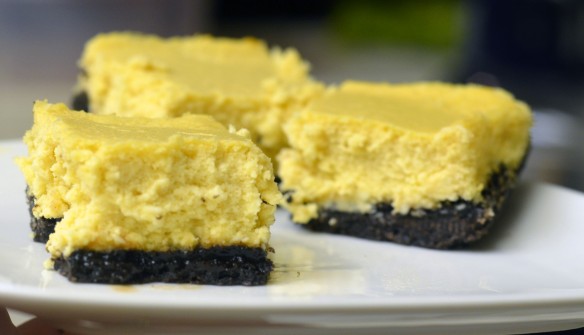 I was pleasantly surprised at how perfect these bars came out. The creamy Bailey's filling is a nice complement to the chocolatey Oreo crust. There's only half a tablespoon of Bailey's per bar, but if you were really concerned about the alcohol, I think you could use the Bailey's flavored coffee creamer as a substitute. Not as good if you ask me, but whatever works for you.
I had to tell Dustin he couldn't have two in a night (for health purposes) because they were that good!
Bailey's Cheesecake Bars
yields 16 bars
Crust
20 Oreos
5 tablespoons unsalted butter, melted
Preheat the oven to 350º. Line a 9"x9" baking pan with aluminum foil, leave some hanging over the edge to act as a handle.
Pulse the Oreos in a food processor until the cookies resemble fine crumbs.
Mix in a medium-sized bowl with the melted butter.
Gently press the Oreos into the baking sheet.
Bake for 9-10 minutes.
Allow to cool while making the filling.
Filling
16 ounces cream cheese, softened
1/2 cup granulated sugar
1/4 cup milk
1/2 cup Bailey's Irish Cream
3 large eggs, room temperature
2 tablespoons all-purpose flour
1 teaspoon vanilla extract
Mix the cream cheese in the bowl of a stand mixer until smooth.
Add in the sugar, milk, and Bailey's and mix.
Add in the eggs, one at a time, beating after each addition.
Add in the flour and vanilla extract and mix.
Spread the cream cheese mixture on top of the crust (you will have a little bit left over).
Bake for 30 minutes.
Allow to cool at room temperature for about an hour.
Cover with aluminum foil and allow to sit in the refrigerator overnight before slicing.
slightly adapted from Baking Bites