Banana Split Cookies
During our chocolate chip cookie challenge, I may have been a little bit naughty and picked up an extra banana split cookie from one of our stops. It's as if banana pudding and chocolate chip cookies had a delicious baby together with some maraschino cherries mixed in to make it a banana split. Within the week, I was already recreating this yummy cookie (that I think we made better because I used cherries over strawberries like the original) as a statistics exam stress reliever.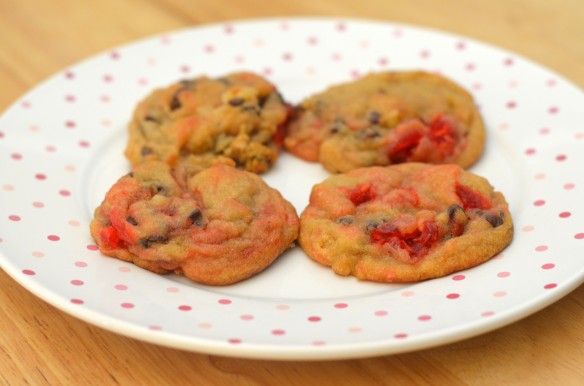 I used banana pudding in the base (similar to what I did with these cookies) to give a banana flavor because that is about the only way I could think of incorporating it appropriately. The pudding keeps these cookies super soft for days. The cherries are really necessary to make it "banana split-y" or else they are just banana pudding cookies with nuts, which wouldn't be so bad themselves; nonetheless, the cherries give it a little something extra!
Banana Split Cookies
yields ~2 1/2 dozen cookies
1 cup unsalted butter, at room temperature
3/4 cup brown sugar
1/4 cup granulated sugar
3.5 oz package instant banana pudding mix
2 large eggs
1 teaspoon vanilla extract
2 cups + 2 tablespoons all-purpose flour
1 teaspoon baking soda
1/2 teaspoon salt
1/2 cup maraschino cherries, chopped
1 cup chocolate chips
1/2 cup walnuts, chopped
Cream together the butter and the sugars in a large bowl until light and fluffy.
Add in the pudding mix, followed by the eggs one a time, and vanilla extract until smooth.
In a medium sized bowl sift together the 2 cups of flour, baking soda, and salt.
Slowly add the dry mixture to the wet mixture and mix until just combined.
Toss the cherries with remaining flour.
Fold in the chocolate chips, walnuts, and cherries.
Place in the fridge for at least an hour to chill.
Preheat the oven to 350º.
Line baking sheets with silicone baking mats.
Use a medium sized cookie scoop to scoop about 1 1/2 tablespoons of dough onto a baking sheet.
Bake for 10-11 minutes until cookies are golden brown around the edges.
Allow to cool on the baking mat for at least 5 minutes before transferring to a wire cooling rack.