Buffalo Chicken Sloppy Joes
The Philly Cheesesteak Sloppy Joes of a few weeks ago were a resounding success, so if your brain works the way that ours do, the next natural step is to take another of our favorite flavor combinations and transition it into a sloppy joe. What do you think about the flavors of buffalo chicken? We think Frank's and blue cheese make just about everything taste a little better, so that's the direction we went.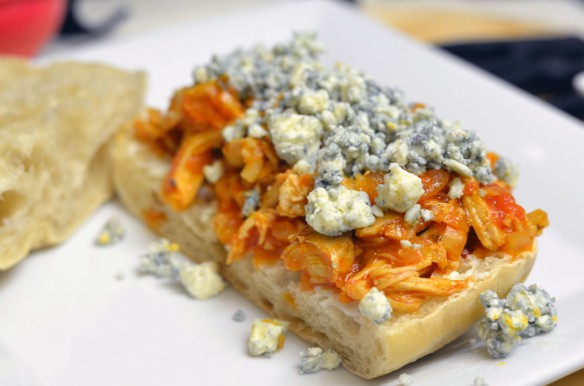 I probably shouldn't be surprised that these were going to be delicious, but I seriously could not stop stuffing my face!
Buffalo Chicken Sloppy Joes
serves 2
1 tablespoon butter
1 yellow onion, chopped
3 cloves garlic, pressed
2 tablespoons red wine vinegar
2 tablespoons brown sugar
1 tablespoon Worchester sauce
1/2 cup Frank's hot sauce
1 cup tomato sauce
3/4 lb chicken, cooked and shredded
1/2 cup blue cheese crumbles
2 buns, split and toasted
2 tablespoons blue cheese dressing, for spreading on buns
Melt the butter in a high rimmed saucepan over medium heat.
Cook the onions in the butter for several minutes until translucent then add garlic and cook another minute more.
Add the red wine vinegar, brown sugar, Worchester sauce, hot sauce, and tomato sauce and mix. Bring to a simmer.
Once thickened, add in the chicken and stir to coat.
Place the sauce and chicken on buns spread with blue cheese dressing and top with blue cheese crumbles.
adapted from FoodNetwork.com via Rachael Ray