Mardi Gras King Cake Ice Cream
Not going to lie. I only made that easy King Cake monkey bread so I could chop it up and add the pieces as mix-ins to a tangy cream cheese ice cream with a cinnamon swirl that tastes exactly like filling from a cinnamon roll. Blue Bell makes their own version of Mardi Gras King Cake Ice Cream, but since it is nowhere to be seen anywhere near this part of the country, I had to make my own. I saw the idea after Mardi Gras last year, and you can bet this is a dessert I've had marked on my calendar ever since. Even if you don't make a King Cake specially for this purpose, it is a great way to use up any stale leftovers.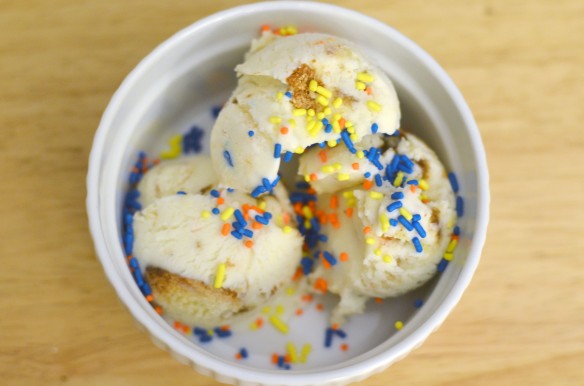 This is what Dustin had to look forward to when he got off the plane from San Antonio. And two adorable doggies who were psyched to see him!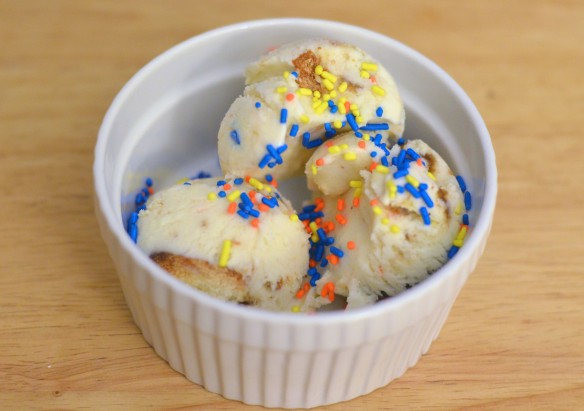 Mardi Gras King Cake Ice Cream
yields ~1 1/2 quarts
Ice Cream Base
2 cups whole milk, divided
4 teaspoons cornstarch
1 1/4 cups heavy cream
2/3 cup granulated sugar
2 tablespoons light corn syrup
1/4 teaspoon salt
4 ounces cream cheese, softened
1/2 King Cake monkey bread (or other leftover King Cake), cut into 1/2"-1" pieces
Combine 1/4 cup milk with the cornstarch to form a slurry. Set aside.
Combine the remaining milk, cream, sugar, corn syrup, and salt in a large saucepan. Stir constantly until a rolling boil is achieved and cook for about 3 minutes.
Add in the cornstarch slurry and cook for another 2 minutes.
Place the cream cheese in a medium size bowl, then slowly pour the ice cream mixture on top, whisking until smooth.
Allow to come to room temperature then cover with plastic wrap and place in the fridge overnight to chill completely.
Process in a ice cream maker according to manufacturer's instructions. Add in the pieces of King Cake during the last 3 minutes of processing. Do NOT place into a container until you have read the instructions below.
Cinnamon Swirl Filling
2 tablespoons unsalted butter
1/2 cup brown sugar
1/3 cup water
1 teaspoon cornstarch
1 teaspoon cinnamon
As the ice cream is churning, combine all of the ingredients together over medium-high heat, stirring until a syrupy texture is achieved.
Allow to cool slightly before drizzling a layer (approximately 1/3 of mixture) over a large freezer safe container.
Place a layer of ice cream on top, layer more cinnamon filling. Repeat and end with a layer of ice cream. Do not mix together unless you would like a muddy brown ice cream.
Freeze until desired texture is achieved.
base adapted from Jeni's Splendid Ice Cream via Saveur