Milk Chocolate Guinness Ice Cream
In addition to celebrating St. Patty's Day with Bailey's cheesecake bars, I also made Guinness ice cream. It's amazing how much I despise beer, but how much I love things made with with beer. The milk chocolate softens the flavor of the Guinness into a perfect, made-in-heaven match. It was unseasonably warm (hotter than it normally is in summer) in LA yesterday, so this was a nice treat to cool down with yesterday after Bella's advanced obedience class.
Even though St. Patrick's Day will soon be over, stay tuned for more Guinness recipes, because I'm sure you bought a six-pack to celebrate the holiday. Instead of drinking them, you should add them to food instead.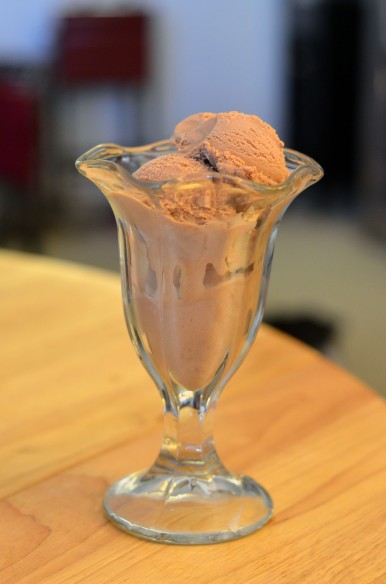 We spent Saturday tasting chocolate chip cookies, shopping, watching the Veronica Mars movie in theaters, and happy hour margaritas while the puppies were at daycare. One of our purchases were these cute ice cream sundae glasses from a discount cooking shop that I am now officially obsessed with. It's amazing how much fun I have walking through aisles of cooking supplies. I wish I had an enormous kitchen to store everything I'd like to purchase!
Milk Chocolate Guinness Ice Cream
yields ~1 quart
7 ounces milk chocolate, chopped
1 cup whole milk
1/2 cup sugar
1/4 teaspoon salt
4 large egg yolks
1 cup heavy cream
3/4 cup Guinness beer
1 teaspoon vanilla extract
Place the chocolate in a large bowl with a strainer on top.
Combine the milk, sugar, and salt in a medium saucepan until almost boiling.
In a small bowl, whisk the eggs together until smooth.
Slowly add about a cup of the milk mixture to the egg yolks, stirring rapidly.
Add the egg and milk mixture back to hot saucepan and cook over medium heat, stirring until the mixture thickens to coat the back of a spoon.
Pour the mixture through the strainer.
Stir together the milk and chocolate until smooth.
Add in the cream, beer, and vanilla, and combine.
Allow to come to room temperature, then cover with plastic wrap and allow to chill in the refrigerator.
Churn in an ice cream mixture according to manufacturer's instructions. Store in a freezer proof container and freeze until desired texture is reached.
slightly adapted from David Lebovitz