Soda Bread French Toast
It may be too late... your soda bread from St. Patty's Day may already be gone, but if you happened to throw some in the fridge or freezer, you should make this French toast. I almost forgot that I planned on making it, but fortunately I managed to remember before the soda bread was too past its prime.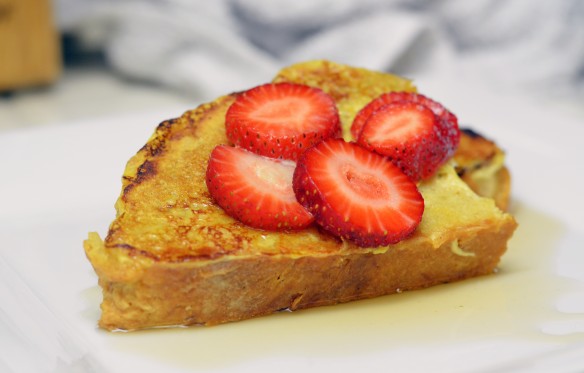 The flavor is classic, but the soda bread adds a slightly different texture than your standard French toast. Dustin and I both gave it two thumbs up!
From now on, each and every time I make a new bread, I want to turn it into French toast!
Soda Bread French Toast
3 eggs
1/4 cup cream
1/4 cup milk
1 teaspoon vanilla extract
2 tablespoons granulated sugar
1 teaspoon cinnamon
3 large, thickly-cut slices soda bread (I cut my slices in half to make them easier to soak)
maple syrup, for topping
sliced strawberries, for topping
Whisk the eggs, cream, milk, and vanilla extract in a large, shallow bowl.
Add in the sugar and cinnamon.
Submerge the slices of bread in the mixture and allow to soak for about 5 minutes.
While the bread is soaking, heat a griddle to medium-high heat.
Cook the soaked bread for 3-4 minutes on each side (depending on how thick you cut your slices) until the outside is golden brown.
Serve with warm maple syrup and sliced strawberries.